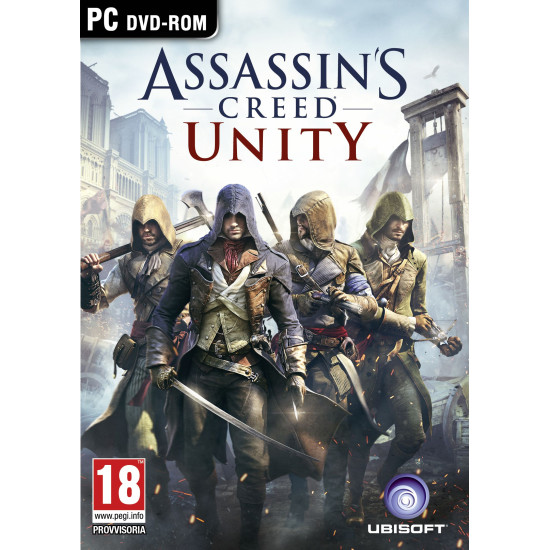 Digital Code -21 %
UbiSoft Assassin's Creed Unity ( Special Edition ) / PC ( CD Key )
Release date: November 14, 2014.




Manufacturer:

UbiSoft

Rated : Ages 18 and Over

Item Cover may deffer

Pre-Order bonus VALID when place your order before release date and EgyNewTech reserves the right to change or terminate this promotion at any time in which matching publisher Policy, Any issues in using or redeeming the code provided by publisher as a pre-order bonus, customer have to contact the publisher direct. **
How to Redeem and use the Digital Code;
Launch Steam and log into your account, if you don't have account please follow the application instructions to register new account

Once logged in, At the bottom-left of your Library page, you'll see a plus symbol labelled "Add a Game." Click it, and then select "Activate a Product on Steam..."
Steam will prompt you with its Subscriber Agreement. Click "I Agree," and then you'll be presented with a text field to input the game code

Once you enter the code and click "Next," the game will begin downloading.
Assassin's Creed Unity - Special Edition Highlights;
INTRODUCING ASSASSIN'S CREED® UNITY:
Paris, 1789 – The French Revolution turns a once-magnificent city into a place of terror and chaos. Its cobblestone streets run red with the blood of commoners who dared to rise up against the oppressive aristocracy.
As the nation tears itself apart, a young man named Arno will embark on an extraordinary journey to expose the true powers behind the Revolution. His pursuit will throw him into the middle of a ruthless struggle for the fate of a nation, and transform him into a true Master Assassin.
In addition to an epic single-player campaign, join with up to three friends online and experience the open world of 18th-century Paris. Pull ambitious heists and take part in unique narrative-driven missions designed exclusively for co-op play. Sabotage an execution. Protect an emperor. Assassinate a Templar agent. Victory won't be easy; you and your lethal band must rely on communication, coordination, and diverse skills to accomplish your missions, then vanish into the shadows.