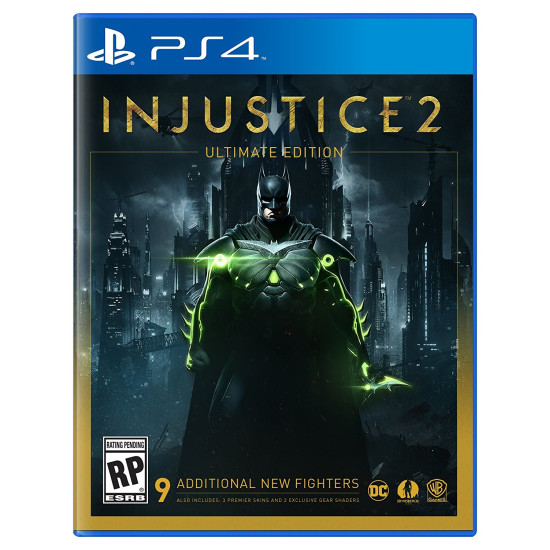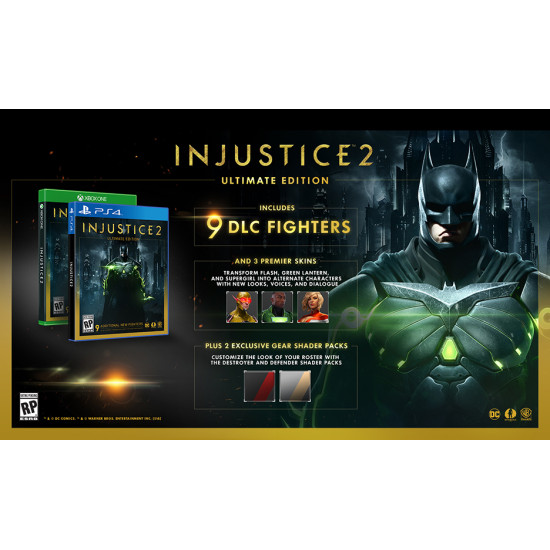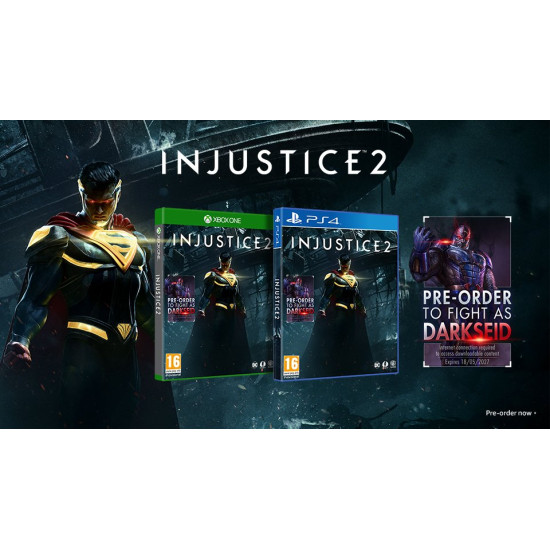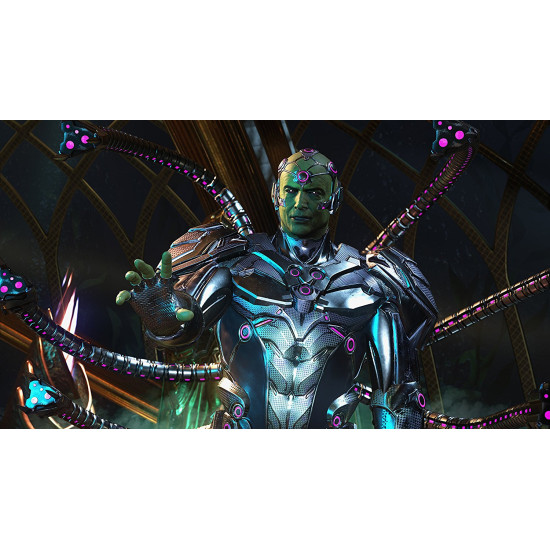 -8 % Sold Out





This product qualifies for free shipping
This product qualify for free shipping inside Cairo, Giza and most of States.
Injustice 2 - Ultimate Edition | PS4
Release date: 19-May-2017




Manufacturer:

Warner Home Video - Games

Rated : Ages 16 and Over

Item Cover may deffer

Pre-Order bonus VALID when place your order before release date and EgyNewTech reserves the right to change or terminate this promotion at any time in which matching publisher Policy, Any issues in using or redeeming the code provided by publisher as a pre-order bonus, customer have to contact the publisher direct. **
Injustice 2 - Ultimate Edition
The ULTIMATE EDITION comes in a steel book case.

The ULTIMATE EDITION includes 9 additional DLC characters and 3 additional skins for Flash, Green Lantern, and Supergirl which allows players to transform select fighters into alternate characters.

The ULTIMATE EDITION also includes two exclusive gear shaders which enables players to customize the look of their roster with alternate color themes.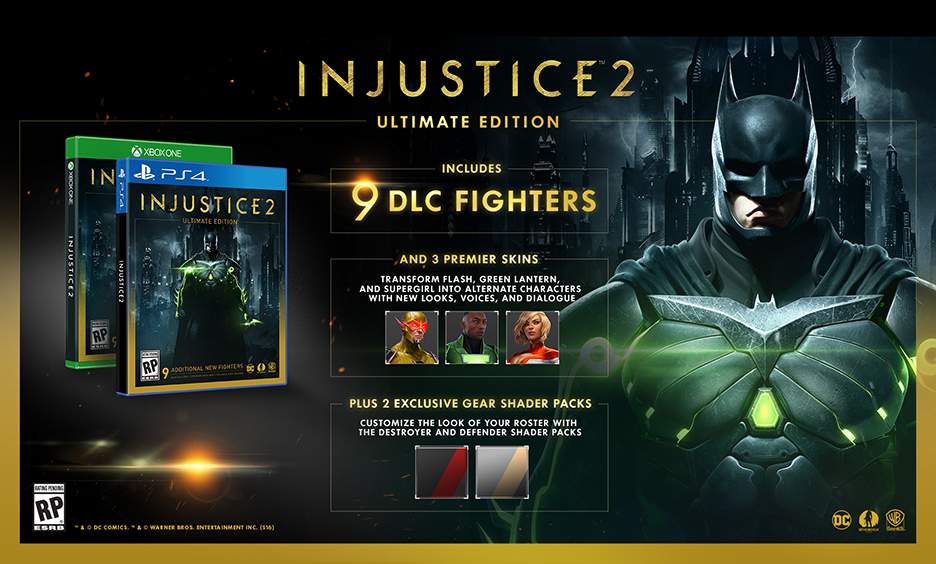 Pre-order Injustice 2 on PS4 or Xbox One before the release date and you'll receive a promotional code in box to access Darkseid character (the "Offer"). Your code will provided to you in box.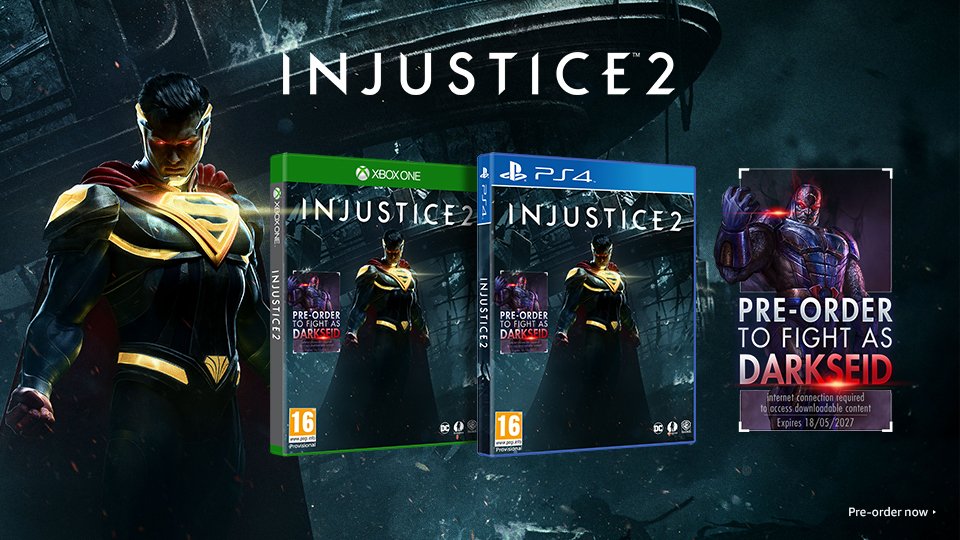 Injustice 2 Highlights;

EVERY BATTLE DEFINES YOU: With every match you'll earn gear to equip, customize and evolve your favorite DC Super Hero or Super-Villain, meaningfully impacting how your character both looks and fights.

A NEW THREAT RISES: Continue the epic cinematic story set in motion in INJUSTICE: GODS AMONG US as Batman and his allies work towards putting the pieces of society back together, but struggle against those who would restore Superman's Regime. In the midst of this chaos, a new threat appears that forces old enemies to forge new alliances...

THE BEST OF DC: Choose your character from the biggest DC Universe roster a fighting game has ever seen - from classic fan favorites to astonishing new villains. Battle across iconic locations such as Gotham City and Atlantis in epic scale battles that use and destroy everything around you.

BUILT BY NETHERREALM: Developers of the best-selling and critically acclaimed MORTAL KOMBAT franchise, NetherRealm Studios brings unrivaled storytelling, robust content, and best-in-class fighting mechanics to the DC Universe.
Injustice 2 - Announce Trailer ( Video All Rights reserved to Publisher - mentioned on the video )




Injustice 2 - The Lines Are Redrawn ( Video All Rights reserved to Publisher - mentioned on the video )










Description from Manufacturer ( Mentioned Above ):

INJUSTICE RETURNS


Injustice 2 is the super-powered sequel to the hit game Injustice: Gods Among Us that allows players to build and power up the ultimate version of their favorite DC characters. Featuring a massive selection of DC Super Heroes and Super-Villains, players can personalize iconic DC characters with unique and powerful gear earned throughout the game. Additionally, for the first time, gamers can take control of how their characters look, fight and develop across a variety of game modes.





EVERY BATTLE DEFINES YOU


Injustice 2 expands on the previous title's larger-than-life showdowns. With every match, players earn gear to equip, customize and level-up their favorite DC Super Heroes and Super-Villains that meaningfully impacts not only how they look, but also how they fight.





MASSIVE ROSTER OF DC CHARACTERS


Players can choose from the biggest DC roster ever offered in a fighting game, from classic fan favorites such as Batman, Superman, Supergirl, The Flash, Aquaman, Wonder Woman and Blue Beetle, to astonishing new villains like Atrocitus, Gorilla Grodd and Deadshot.




EPIC, CINEMATIC STORYLINE


Injustice 2 continues the story set in motion in Injustice: Gods Among Us as Batman and his allies work towards putting the pieces of society back together, but struggle against those who would restore Superman's Regime. In the midst of this chaos, a new threat appears that will put Earth's very existence at risk.




BUILT BY NETHERREALM STUDIOS


<