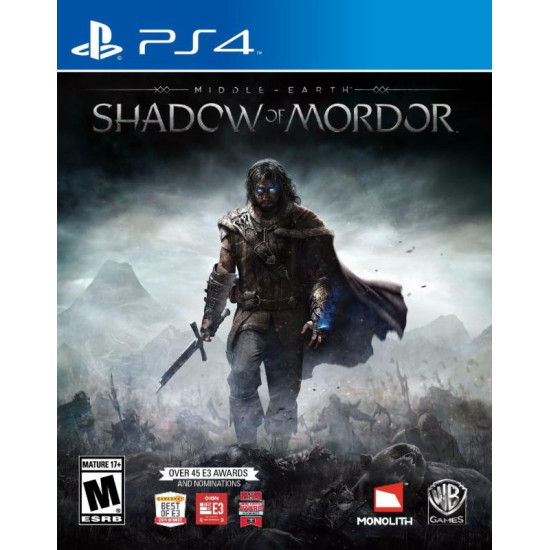 Restocking
This product qualifies for free shipping when bundle it.
This product qualify for free shipping inside Cairo and most of States; when buy it with another product and your order value exceed 2000 EGP.
Middle-Earth Shadow Of Mordor | PS4
Our Game Rate: 9.5/10
Publisher: Warner Brothers.
Conditions: New, Original, Sealed and Region 2 - UK.
Release date: 03-10-2014
Price subject to change
Game cover may differ ​
Middle-Earth Shadow Of Mordor Pre-order bonus gain access to The Dark Ranger!
The Dark Ranger Includes:
• A Playable Character Skin: Stand out from the crowd and strike fear into your enemies with this exclusive character skin for Talion.
• The "Test of Power" Challenge mode: Push your ranger and wraith skills to their limits with the Test of Power Challenge mode!
Preorder Middle Earth: Shadow of Mordor and put your skills to the test!
Assassin's Creed Unity Story Trailer [UK]
Harness the Spirit of vengeance to inflict brutal combos while mastering powerful new skills and weaponry.

Exploit the individual fears, weakness and memories of your enemies as you dismantle Sauron's forces from within.

Become the most feared force in Mordor in a new chronicle set before the events of the Lord of the Rings.
Middle-earth: Shadow of Mordor explores what happened in the land of Mordor as Sauron prepares his armies for The War of the Ring.
You are Talion, a Ranger of the Black Gate, keeping watch over Mordor which has remained undisturbed for ages. In the blink of an eye, everything is taken from you - your friends, your family, and even your own life. Resurrected by a vengeful spirit, you must now embark on a relentless vendetta against those who have wronged you. Fight through Mordor and uncover the truth of the spirit that compels you, discover the origins of the Rings of Power, build your legend and ultimately confront the evil of Sauron in this new chronicle in Middle-earth.
Grow your army and dominate the Uruk soldiers of Sauron's Army to build your own, using the power of the Wraith. Your power begets followers, willing or otherwise, and they will follow you or fall. Mordor's wildlife has been forged in an unforgiving environment, ensuring only the strongest survive. Using the power of the Wraith, swift Caragors and mighty Graugs will become yours as well.
Locations
The valley of Udûn is a harsh and unaccommodating land used primarily as a way-station for armies with ambitions to breach Mordor or attack from it. The sprawling land was once populated by Gondorian Outcasts but is now commanded by the Uruks.
Atypical for Mordor, the Sea of Núrnen lies hundreds of mil