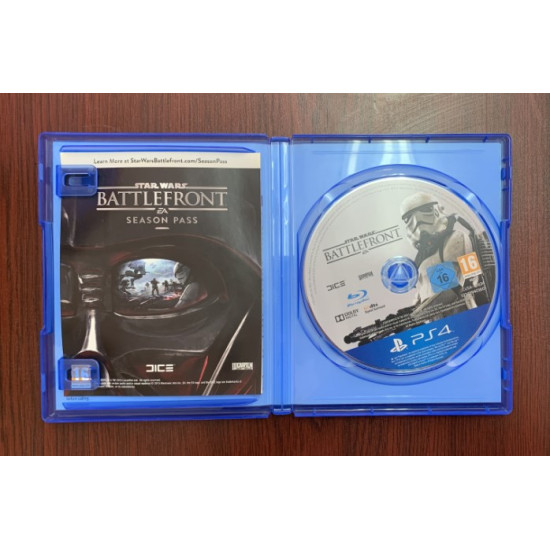 Used Item -17 %

EA Games Star Wars: Battlefront - Deluxe Edition - Used Like New - PlayStation 4
Region All Release date: 17-11-2015

Region 2 Release date: 19-22-2015

Game Cover may deffer




Pre-Order Price Guarantee




Pre-Order bonus VALID when place your order before release date and EgyNewTech reserves the right to change or terminate this promotion at any time according to publisher, Any problem in using or redeeming the publisher pre-order bonus customer have to contact the publisher direct.



Deluxe Edition Details:
The Deluxe Edition unlocks 5 in-game items: DL-44 blaster, Ion Grenade, Ion Torpedo, Ion Shock, Victory




Visit classic planets from the original Star Wars trilogy, detailed with an unprecedented amount of realism and sense of authenticity that will transport you to a galaxy far, far away

Engage in epic battles on iconic planets including Hoth, Endor, and Tatooine. Also, bring the fight to the previously unexplored planet, Sullust.

Pilot a diverse set of ground-based vehicles including nimble speeder bikes, massive AT-ATs, and more

Battle alongside your friends online or in offline split-screen Co-op mode
Star Wars Battlefront Reveal Trailer

Star Wars Battlefront Gameplay Launch Trailer


Star Wars Battlefront | Official Trailer |E3 2014

Description from Manufacturer

Immerse yourself in your Star Wars battle fantasies.
Feeling the ominous thud of an AT-AT stomping down on the frozen tundra of Hoth. Rebel forc