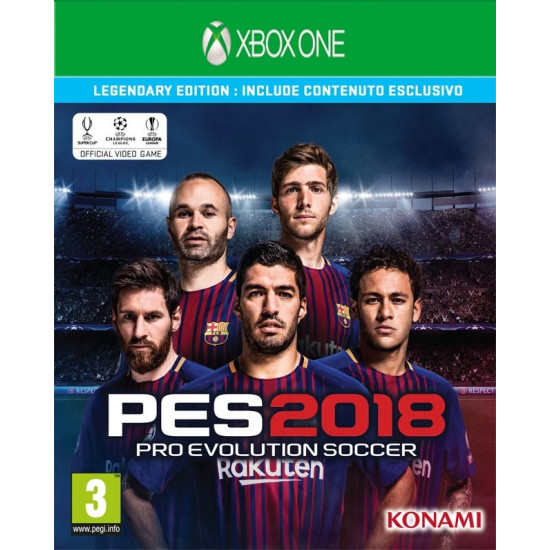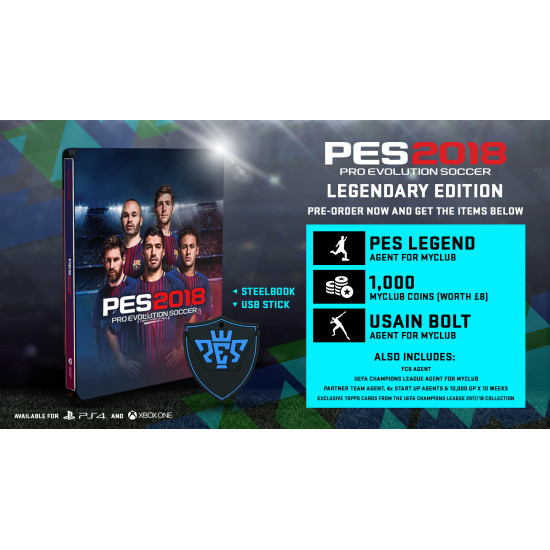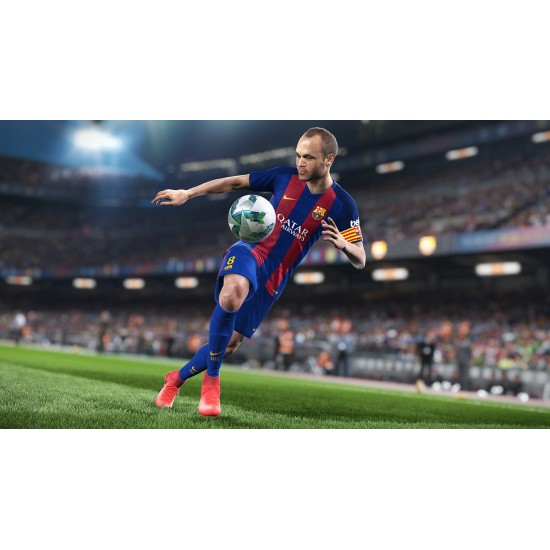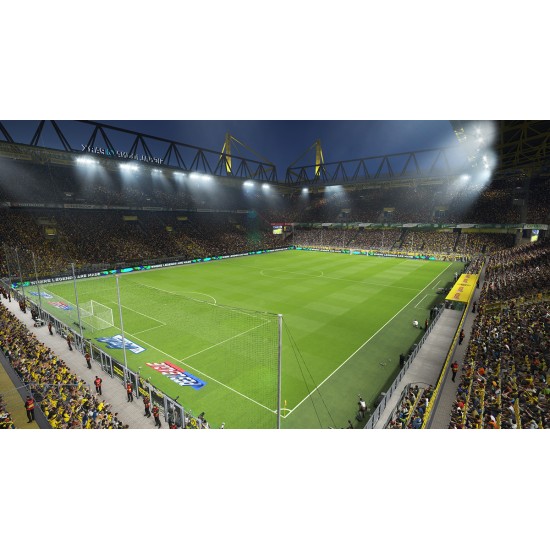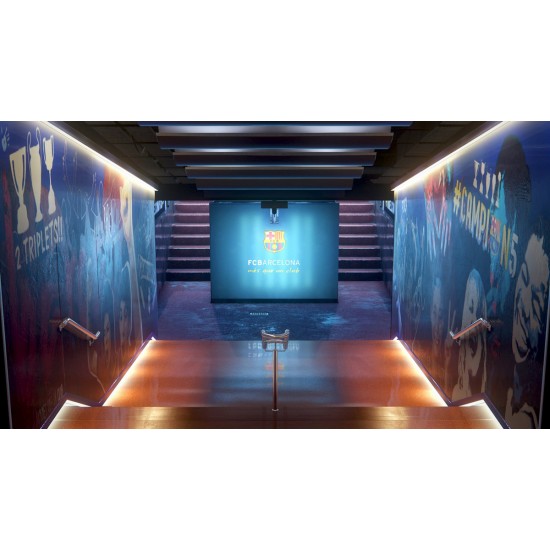 -35 % Restocking






This product qualifies for free shipping when bundle it.
This product qualify for free shipping inside Cairo and most of States; when buy it with another product and your order value exceed 2000 EGP.
Konami PES 2018 - Legendary Edition - XB1
Release date: 14 Sept. 2017




Manufacturer:

Konami

Rated : Ages 3 and Over

Item Cover may deffer

Pre-Order bonus VALID when place your order before release date and EgyNewTech reserves the right to change or terminate this promotion at any time in which matching publisher Policy, Any issues in using or redeeming the code provided by publisher as a pre-order bonus, customer have to contact the publisher direct. **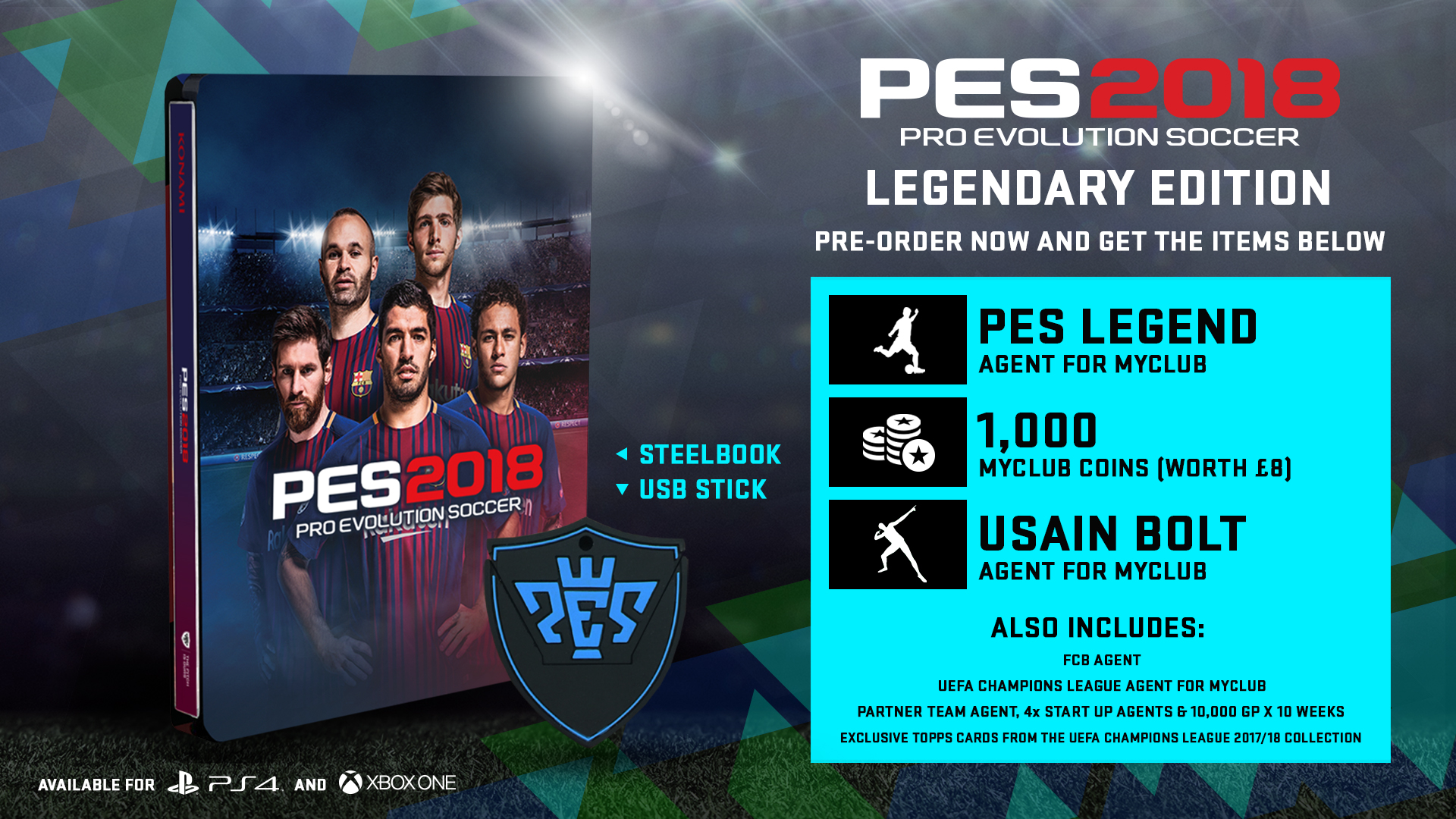 A PES Legend player will be exclusively available to add to the burgeoning Master League and myClub squads, while the world's fastest man - Usain Bolt - is also included. Additionally 1000 myClub coins will enable quick movements within the transfer market. To help spend the money, a UEFA Champions League agent specialising in players appearing in Europe's greatest club competition is also at your disposal, as is a Partner Team Agent, representing players from KONAMI's partner teams including: FC Barcelona, Liverpool and Borussia Dortmund. Four additional Start Up Agents will also be on hand to Legendary Edition owners, while player funds will be topped up with 10,000 GP added weekly for a 10 -week period.
The Steel Book also includes an exclusive PES 2018 USB Stick and features an exclusive UEFA Champions League Topps Card from the forthcoming 2017/18 collection.

David Beckham
Following PES 2018's launch on September 14th, several versions of David Beckham from key points of his illustrious career will be featured in the game's myClub mode across different campaigns. A total of five eras will be represented, from his formative years in England, through to his times in Spain, Italy and the United States of America, alongside one representing his International profile. Using KONAMI's proprietary scanning and animation systems, Beckham's unique playing style and abilities will be faithfully recreated for those playing the hugely popular myClub mode.
The addition of David Beckham to PES 2018 perfectly reflects the new game's message that it is "Where Legends are Made." Fans will be able to experience this directly in myClub as they build a team from scratch and draft Legends such as Diego Maradona, and now David Beckham, into their team.

Pro Evolution Soccer 2018 - Legendary Edition Highlights;

Gameplay Masterclass - The world renowned gameplay quality has been finely tuned and refined
Presentation Overhaul - New UI for all menus and real player images for gameplay screen
PES League Integration - Compete in new modes including myClub, Random Selection Match and Online co-op
Online Co-op - New 2v2 and 3v3 co-op play modes, with support for local guests
New Modes & Features - The Random Selection Match returns with new presentation and features
Enhanced Visual Reality - Realistic visuals recreate the authenticity of football thanks to Real Capture
PC Improvements - substantial enhancements in graphics and content, ensuring parity with PS4 & XB1
Description from Manufacturer ( Mentioned Above ):

GAMEPLAY MASTERCLASS

The world renowned gameplay quality has been finely tuned and refined to recreate the authenticity of the beautiful game, including a more realistic game speed.
Strategic Dribbling gives the user significantly more control in possession, with the addition of contextual shielding to protect the ball, as well as simple stick controls triggering realistic, subtle movements to wrong foot defenders.
Real Touch+ adds a new dimension to ball control, with full body touch allowing various parts of the body to control the ball based on the unpredictability of the ball movement.
Set pieces have been reworked with a new Free Kick and Penalty Kick system, alongside the option to choose the new one player kick off.
ENHANCED VISUAL REALITY

Realistic visuals recreate the authenticity of football, all the way down to the finer details thanks to Real Capture.
The benefits include true-to-life stadium lighting for day and night matches, pitch turfs and player tunnels that were recreated from more than 20,000 intricate elements of genuine data that was collected at the Camp Nou and Signal Iduna Park.
Players have been motion captured in equally realistic environments, allowing for a complete rework of the animation system, starting with core movement such as walking, turning and body posture.
Additionally, player models have been completely changed, with special attention paid to kit fitting and short size.
Players photo scanned from partner teams will receive full body tattoos.
ONLINE CO-OP

A new mode dedicated to 2v2 and 3v3 co-op play, with support for local guests. Play together with friends, take your team to the top or simply have some f