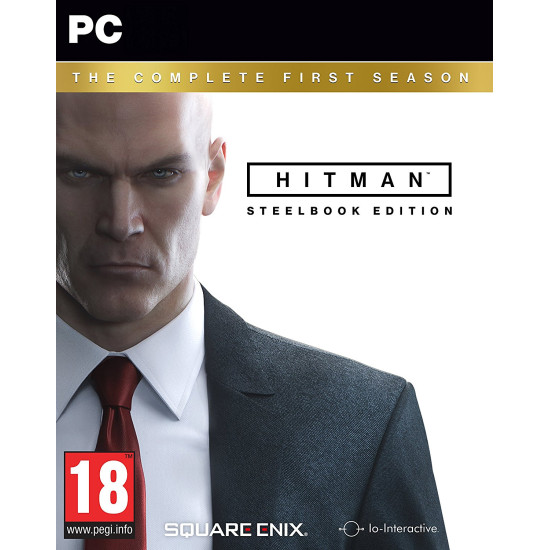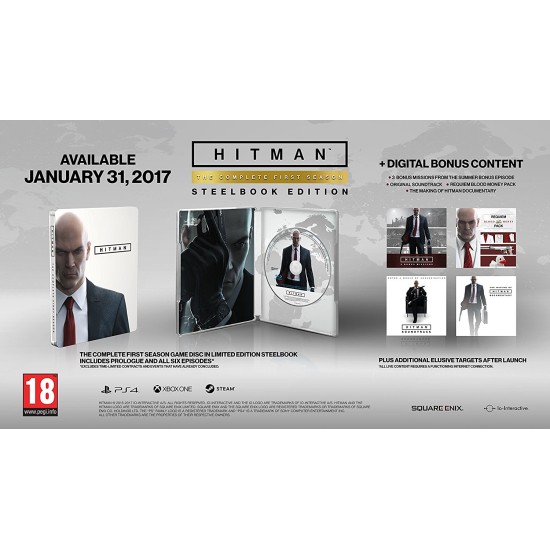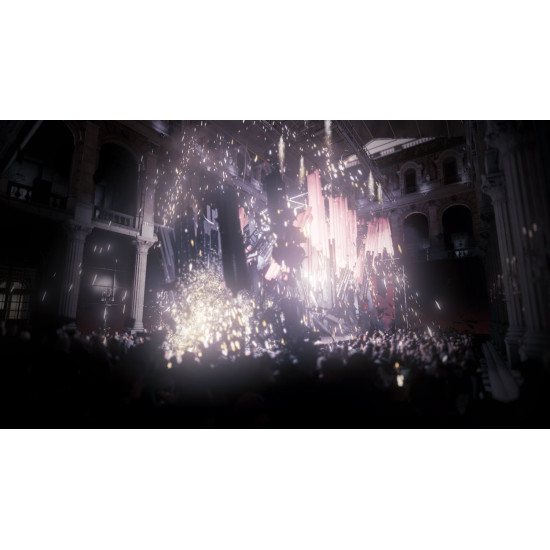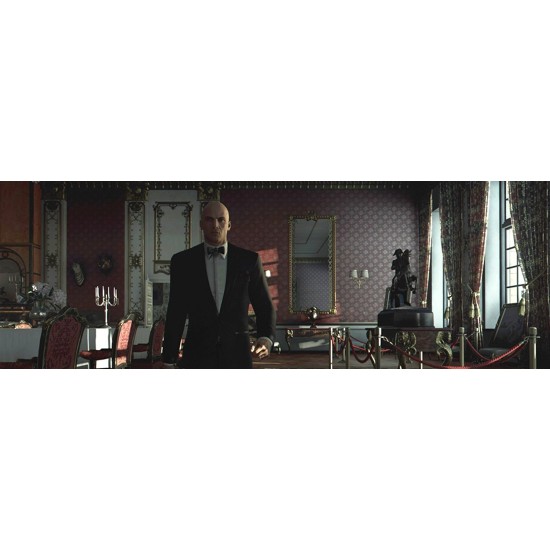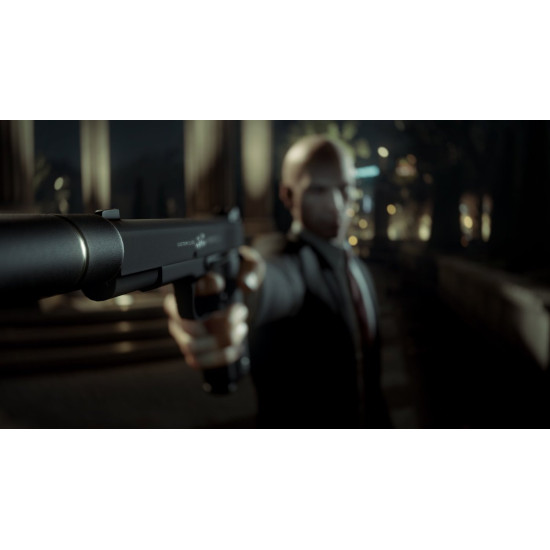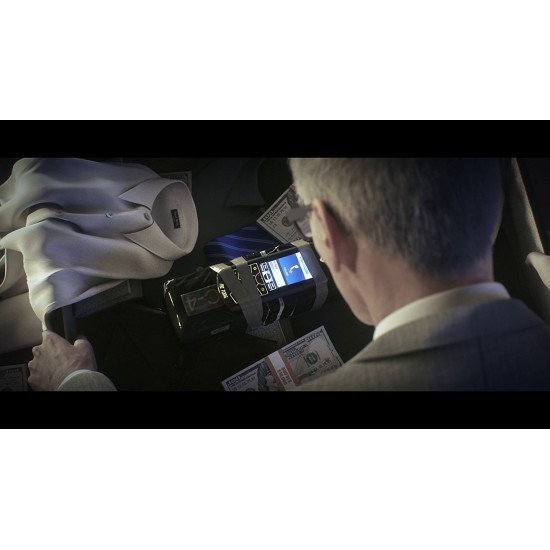 -25 % Sold Out






CAPCOM Hitman The Complete First Season Steelbook Edition | PC - DVD Disc
Release date: 31-01-2017




Manufacturer:

Square Enix

Rated : Ages 18 and Over

Game Cover may deffer

Pre-Order bonus VALID when place your order before release date and EgyNewTech reserves the right to change or terminate this promotion at any time in which matching publisher Policy, Any issues in using or redeeming the code provided by publisher as a pre-order bonus, customer have to contact the publisher direct. **
Hitman The Complete First Season Highlights;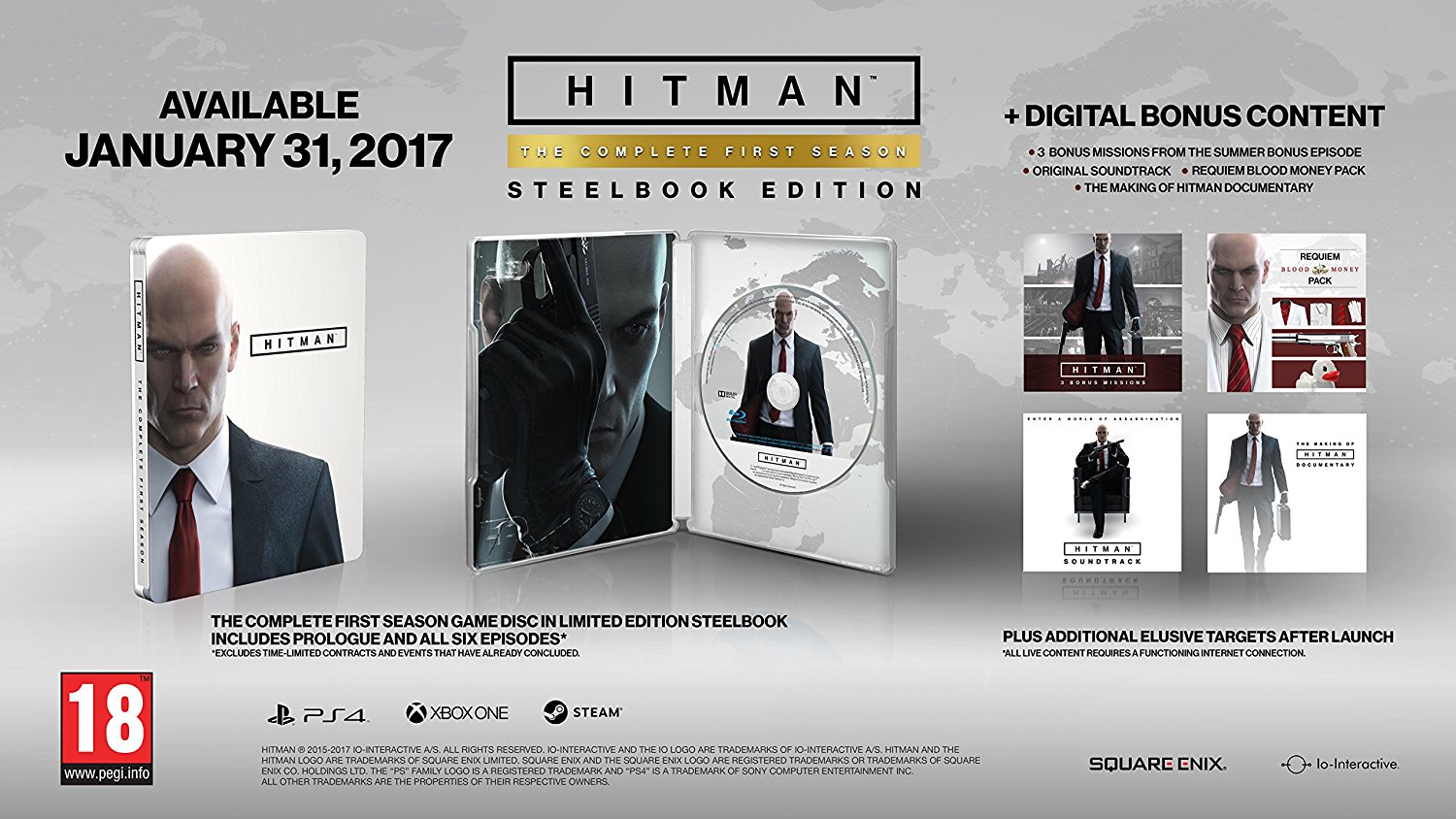 3 Bonus Missions Pack which includes The Icon and A House Built on Sand missions, plus the brand new upcoming Landslide mission.

Original Soundtrack featuring the original game score

The 'making of' HITMAN documentary charting the journey from showing the game to our fans for the first time before E3 2015, through to the digital launch in 2016

REQUIEM Blood Money Pack* which includes the signature Blood Money white suit, white rubber duck and chrome ICA pistol

The PlayStation4 version includes the 6 additional exclusive The Sarajevo Six missions
HITMAN – Disc Launch Trailer ( Video All Rights reserved to Publisher - mentioned on the video )

HITMAN - 101 Gameplay Trailer ( Video All Rights reserved to Publisher - mentioned on the video )
Description from Manufacturer ( Mentioned Above )

Hitman The Complete First SeasonFeatures;

Hitman The Complete First Season Steelbook contents;

Released in a day one edition SteelBook, HITMAN: The Complete First Season delivers the ultimate version of the game including 100+ hours of gameplay, 60 Opportunities to take out, 80 Escalation Contracts, 150,000+ User Contracts and 500 Challenges.

Additional content in the Day one edition:

- 3 Bonus Missions which include The Icon, A House Built on Sand and the brand new Landslide mission.
- Original Soundtrack featuring the original game score.
- The 'making of' HITMAN documentary
- REQUIEM Blood Money Pack which includes the signature Blood Money white suit, white rubber duck and chrome ICA pistol.
- The PlayStation 4 version includes the 6 additional exclusive The Sarajevo Six missions.
Prologue

Return to the roots of the ultimate assassin, Agent 47. Take on a series of deep and intense training operations set in a remote agency facility in the arctic wastes of Greenland. Hone your skills and overcome a number of scenarios from boarding a luxury yacht to take down a cybercriminal, to taking on a Cuban military base in unique and creative ways.
Paris, France

Infiltrate the highest echelons of society in the fashion capital of the world. Navigate the crowded halls of an opulent French palace, where crowds of aristocratic party-goers and tight security constantly keep you on your toes. Rub shoulders with glamourous catwalk models, and uncover and eliminate a shadowy crime syndicate any way you can.