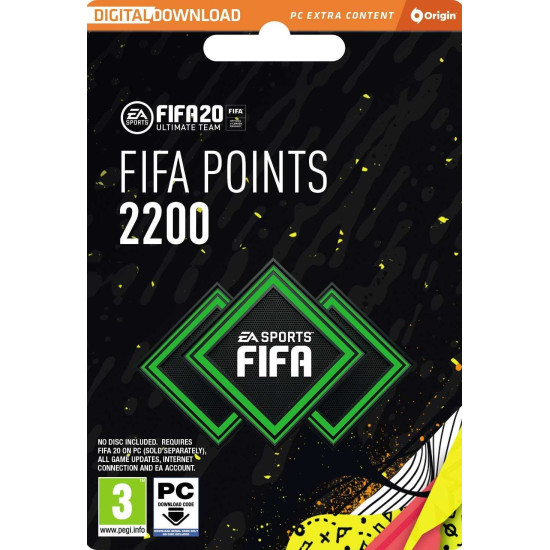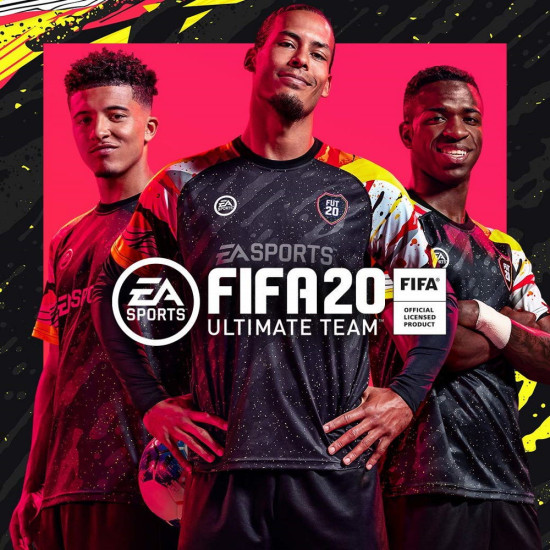 Digital Code Instant Delivery Restocking


EA Sports FIFA 20 - 2200 FUT Points - PC Origin Digital Code
Release date: ِSeptember 27, 2019




Manufacturer:

Electronic Arts

Rated : Ages 3 and Over
FIFA 20 2200 FUT Points Highlights;
Build your dream squad and be part of the most popular mode in FIFA.
Add some of the biggest football legends to your squad.
FIFA 20 ULTIMATE TEAM FIFA POINTS 2200. REQUIRES FIFA 20 ON PC (SOLD SEPARATELY) AND ALL GAME UPDATES.
System Requirements:
Supported OS: Windows 10
Origin account required for game activation and installation
Description from Manufacturer:
VOLTA FOOTBALL





EA SPORTS VOLTA takes football back to the streets, representing the authentic culture, creativity and style of the small-sided game. Build your character, express your style, and play various forms of free-flowing football in environments all over the world.
VOLTA Gameplay:​ Express your style with an entirely new gameplay system, grounded in football realism. Inspired by the authentic small-sided form of football played in streets, cages, and futsal courts across the world; VOLTA gameplay offers new tools to immerse you in the flow of the street, including simplified flicks and skill moves, new flair animations, and even the option to use the wall as a teammate.
Player: ​VOLTA Football allows for countless ways to customize and personalize your player; from clothing, hairstyle and tattoos, to in-game celebratory emotes. Create your male or female player and showcase them across the various game modes in VOLTA Football.

Apparel:​ Show off your style in VOLTA Football by equipping your players with the latest vanity items ranging from shirts, shoes, and sweaters to different tattoos and hairstyles. Unlock more vanity items as you progress through VOLTA by completing in-game challenges.

Locations: ​VOLTA Football brings football playgrounds from all over the globe to life. From an underpass in Amsterdam, to a neighbourhood cage in London, to a Tokyo rooftop, VOLTA Football offers players the ability to taste the regional experience of the global game.

Match Types:​ Customization is at the centre of the way you play VOLTA Football. Play 3v3 Rush (No GK's), 4v4, 4v4 Rush, 5v5 and Professional Futsal. In addition, VOLTA offers different sizes of arenas and environments with and without walls, giving players the freedom to play the beautiful game the way they want to.

Modes:
VOLTA Kick-Off:​ Take your favorite professional teams back to the streets and compete in a number of VOLTA locations and match formats. Play PSG vs. Lyon in Paris, the Madrid derby in the streets of Spain, or Chelsea vs. Spurs in a London cage.
VOLTA World: ​Build up your VOLTA team by playing through Single Player Matches against community generated squads in a variety of formats and locations. After each victory, recruit any player from the opposing team, building your squad up in terms of both skill and chemistry.
VOLTA Story:​ Take your player through a narrative driven experience, where you face off against various legends of street football from around the world. Earn rewards, customize your player, and recruit for your squad, culminating in the VOLTA World Championship tournament in Buenos Aires.
VOLTA League: ​Play your way through promotion and relegation with the online VOLTA League. The new player versus player formats places your team against others online, where wins lead to promotion into a higher division.
More details to be announced later in the campaign.
GAMEPLAY

Experience FOOTBALL INTELLIGENCE, a complete rethink that unlocks an unprecedented platform of football realism. FOOTBALL INTELLIGENCE elevates every living moment on the pitch: on-the-ball, off-the-ball, and through-the-ball. Built on three core pillars: Decisive Moments (on-the-ball), Authentic Game Flow (off-the-ball), and Ball Physics (through-the-ball), this approach is intended to put the user at the