Wolfenstein The New Order and The Old Blood Double Pack | XB1
Release date: 23 Feb. 2018




Manufacturer:

Bethesda

Rated : Ages 18 and Over

Item Cover may deffer

Pre-Order bonus VALID when place your order before release date and EgyNewTech reserves the right to change or terminate this promotion at any time in which matching publisher Policy, Any issues in using or redeeming the code provided by publisher as a pre-order bonus, customer have to contact the publisher direct. **
Wolfenstein The New Order and The Old Blood Double Pack Highlights;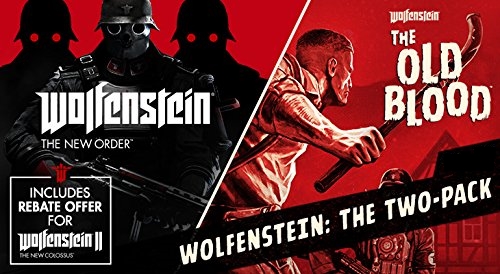 Wolfenstein: The New Order The year is 1960 and the Nazis have won World War II. War hero BJ Blazkowicz must launch an impossible counter-offensive against the monstrous Nazi regime that has conquered the globe
Wolfenstein: The Old Blood The year is 1946 and the Nazis are on the brink of winning World War II. In an effort to turn the tide in the Allies' favor, BJ Blazkowicz must embark on an epic, two-part mission deep within Bavaria...
Assume the role of super soldier BJ Blazkowicz as he uses elite combat tactics and an arsenal of uber advanced weaponry to take down the most powerful empire the world has ever known.
Join forces with a Band of resistance fighters and launch an offensive battle that spans the globe and beyond, as you seek to uncover the truth behind how this Regime conquered the world so quickly.
Take on massive mechs, super soldiers, and an army of seemingly unstoppable might as you fight to free the planet from a nightmare of unimaginable tyranny.
Arm yourself with new weapons such as bolt-action rifle & grenade-launching Kampfpistole to thwart the Nazi war machine. Take advantage of duel-wielding pipes for wall climbing & vicious take-downs.
Standalone prequel to the critically acclaimed first-person action-adventure shooter, Wolfenstein: The New Order.
Description from Manufacturer ( Mentioned Above ):

Wolfenstein The New Order and The Old Blood Double Pack

Wolfenstein: The Two Pack, cinematic and rendered in stunning detail with id Software's id Tech 5 engine, gives players two thrilling campaigns. Now you can get both critically acclaimed first-person shooters, Wolfenstein: The New Order and Wolfenstein: The Old Blood, with their signature deep narrative and immersive FPS combat, in one action-packed bundle!

Happy Gaming everyone

* All Brands and game names mentioned on EgyNewTech.com are trade marks belong to its' owner ( mentioned above ) and its' owner have all the rights reserved for it; Game code and certain audio and/or visual material belong to its' manufacturers ( mentioned above ) and they have all the rights reserved.