Onrush - Day One Edition | XB1
Release date: 5 Jun. 2018




Manufacturer:

Koch Distribution

Rated : Ages 12 and Over

Item Cover may deffer

Pre-Order bonus VALID when place your order before release date and EgyNewTech reserves the right to change or terminate this promotion at any time in which matching publisher Policy, Any issues in using or redeeming the code provided by publisher as a pre-order bonus, customer have to contact the publisher direct. **
Onrush - Day One Edition Highlights;

TAKEDOWNS: Takedowns are core to Onrush. Risk equals reward so take on the track and seek out the multitude of perilous but exciting routes through each track.
VERTICALITY: There's no holding back as you attempt to take on more and more treacherous routes to find the perfect vantage point.
RUSH: Racing at breakneck speed only gets you so far. To really gain an unworldly edge, build your bar and unleash the invulnerable, euphoric blast of speed and power RUSH!
TEAM PLAY: Be part of the team and attack as a pack working together to earn Points, XP, Medals, Boost and ultimately 'RUSH' to obliterate the opposing team.
ALWAYS IN THE ACTION: With no start or finish line Onrush is a constant exhilarating stampede of action.
Day One Edition Includes Vortex Buggy vehicle
Description from Manufacturer ( Mentioned Above ):

Onrush - Day One Edition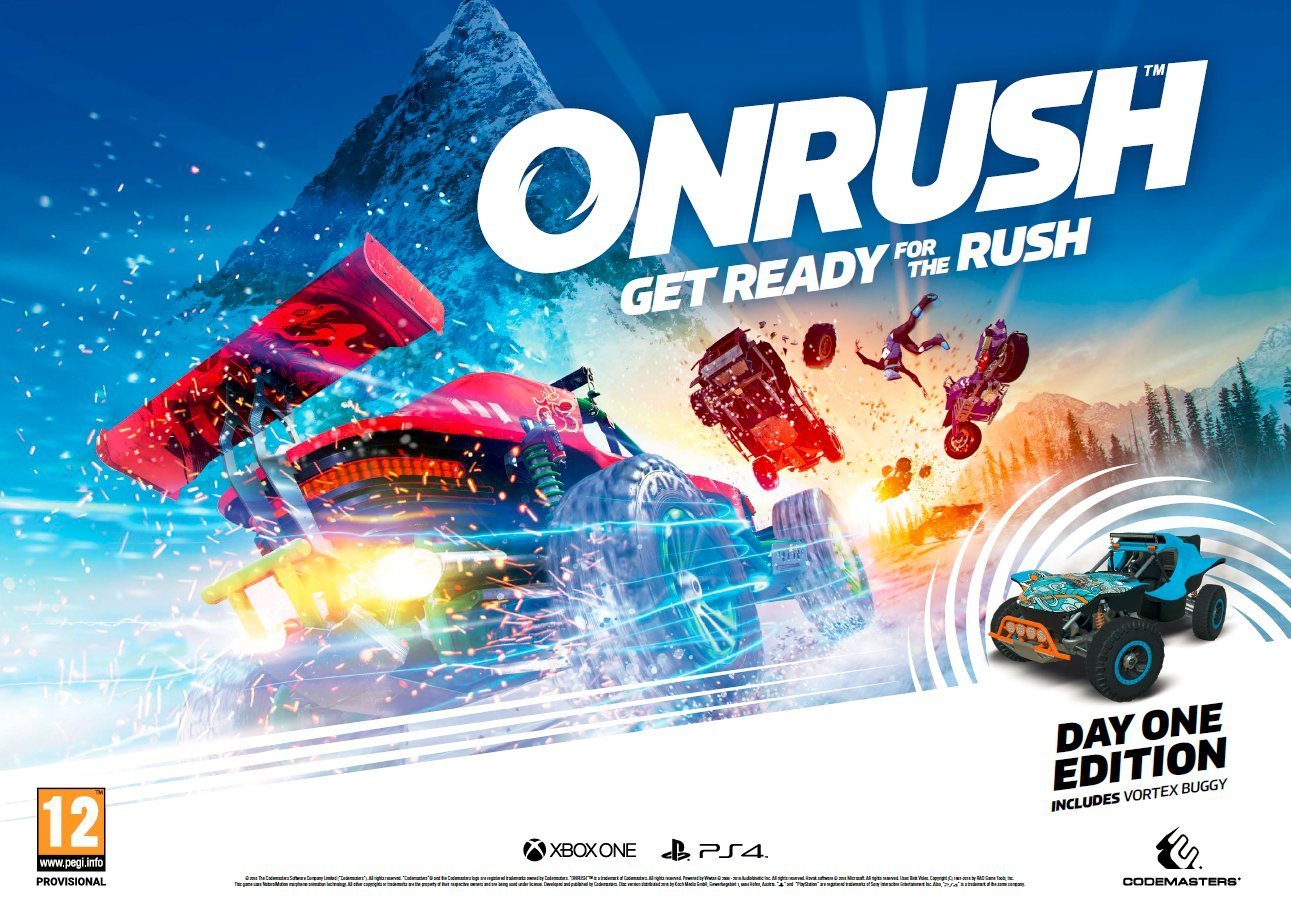 Order now to recieve a unique 'Vortex' Buggy vehicle design to use in game.
ONRUSH heralds the return of all-action, gravity defying, arcade racing. A celebration of sensational speed, outright fun and over the top spectacle ONRUSH is a racing game where you are always in the heart of the action. ONRUSH is not about racing to the finish line. It's not about car set up or tyre choice. It's all about style, flair and the feeling of performing incredible takedowns, racing on the edge of control and risking everything in an effort to take the victory for your team. No arcade game would be complete without Boost, and ONRUSH takes this to the next level with RUSH – the ultimate racing power up. A devastating and exhilarating burst of energy and power, RUSH is a true game changer that can wreak havoc and destroy your competition.



Takedowns
Takedowns are core to Onrush. Risk equals reward so take on the track and seek out the multitude of perilous but exciting routes through each track. Speed off cliff edges and traverse huge ramps flying hundreds of feet through the bold, bright sky. Land with immense force crushing any opposing teams vehicles unfortunate enough to be below.



Verticality


There's no holding back as you attempt to take on more and more treacherous routes to find the perfect vantage point. Explore and use the environments to barrel roll hundreds of feet through the air, vault off cliff edges, boost off ramps and even dive round the side of a 400ft Dam.

Rush


Racing at breakneck speed only gets you so far. To really gain an unworldly edge, build your bar and unleash the invulnerable, euphoric blast of speed and power RUSH!! Completely unique to each vehicle In both look and ability, this is like nothing seen in any racing game before.

Team Play


Be part of the team and attack as a pack working together to earn Points, XP, Medals, Boost and ultimately 'RUSH' to obliterate the opposing team.


Always In The Action



With no start or finish line Onrush is a constant exhilarating stampede of action. Been wrecked? Then hold your breath! as you respawn instantly back in the action and ready for revenge.

Adaptive Soundtrack



The soundtrack to Onrush as alive as the game itself. The game pulls songs from a huge library of explosive edge of your seat tunes that mix and adapt as you drive. The type, speed and volume of the tracks all change in real-time reflecting the action in the game.

Happy Gaming everyone

* All Brands and game names mentioned on EgyNewTech.com are trade marks belong to its' owner ( mentioned above ) and its' owner have all the rights reserved for it; Game code and certain audio and/or visual material belong to its' manufacturers ( mentioned above ) and they have all the rights reserved.