Need For Speed PayBack - Deluxe Edition | XB1
Release date: 10 Nov. 2017




Manufacturer:

Electronic Arts

Rated : Ages 12 and Over

Item Cover may deffer

Pre-Order bonus VALID when place your order before release date and EgyNewTech reserves the right to change or terminate this promotion at any time in which matching publisher Policy, Any issues in using or redeeming the code provided by publisher as a pre-order bonus, customer have to contact the publisher direct. **
Pre-order Need for Speed Payback Deluxe Edition;

now to get an edge over the competition with up to 3 days of early access to the full game. Stand out from the crowd with exclusive customization items and receive in-game discounts, rep bonuses, and five shipments to get your adventure started.
Also includes the upcoming Story Mission Pack and the Need for Speed Payback Platinum Car Pack with exclusive† Platinum Blue Underglow.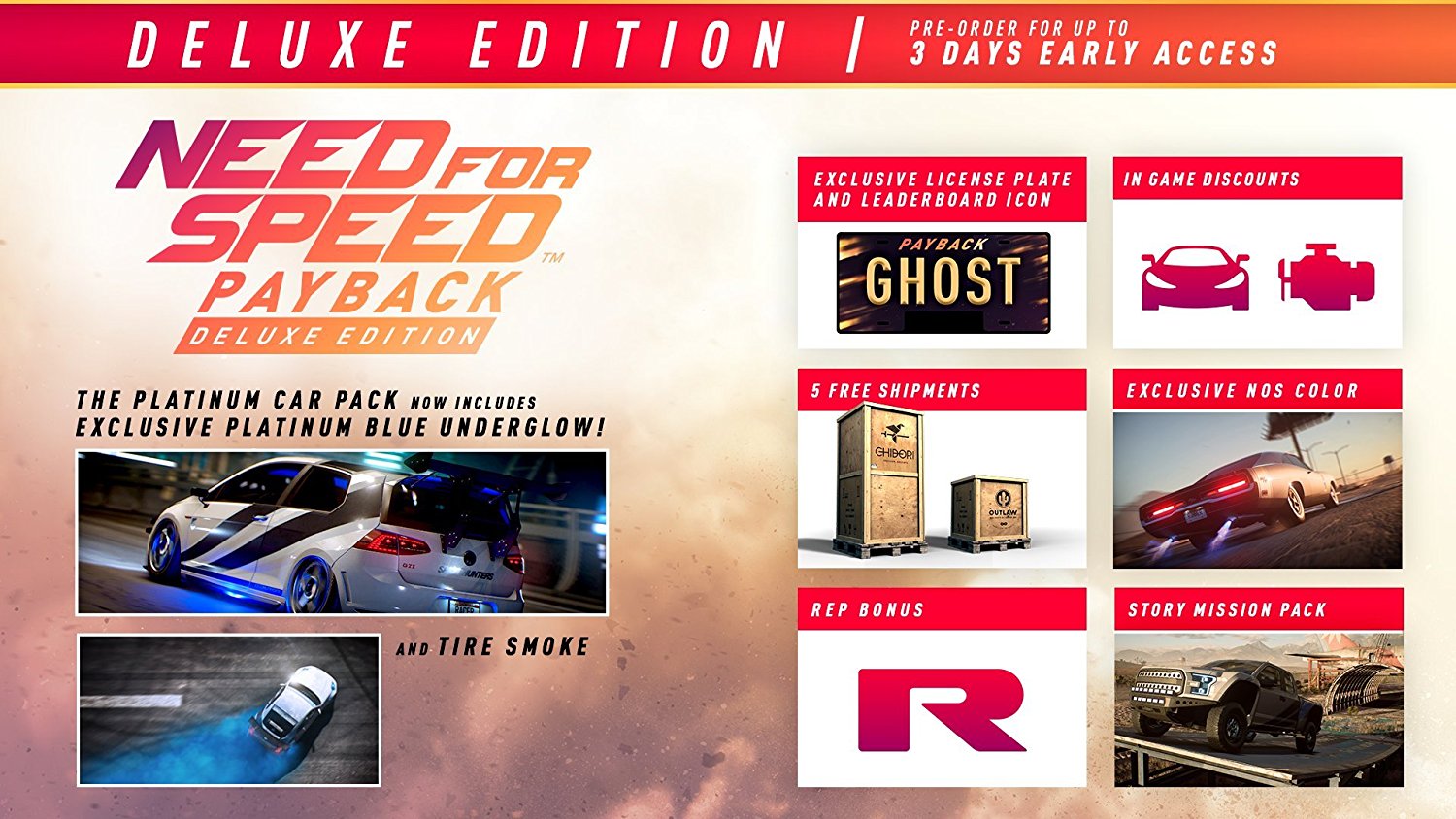 Deluxe Edition Content:

Up to 3 days of early access
Story Mission Pack
Exclusive Deluxe Edition NOS Color (Can be applied to 5 cars)
Exclusive Deluxe Edition License Plate
Exclusive Deluxe Edition Leaderboard Icon
5 Shipments
5% Rep Bonus
10% Discount on in-game content using earned in-game currency
Platinum Car Pack Includes:

Exclusive Platinum Blue Underglow & Tire Smoke Vanity Items†
Nissan 350Z 2008
Chevrolet Camaro SS 1967
Dodge Charger R/T 1969
Ford F-150 Raptor 2016
Volkswagen Golf GTI Clubsport 2016
Need For Speed PayBack Highlights;
Call of Duty returns to its roots with Call of Duty: WWII-a breathtaking experience that redefines World War II for a new gaming generation
Call of Duty: WWII creates the definitive World War II next generation experience across three different game modes: Campaign, Multiplayer, and Co-Operative
Featuring stunning visuals, the Campaign transports players to the European theatre as they engage in an all-new Call of Duty story set in iconic World War II battles. Land in Normandy on D-Day and battle across Europe through iconic locations in history's most monumental war
Multiplayer marks a return to original, boots-on-the ground Call of Duty gameplay. Authentic weapons and traditional run-and-gun action immerse you in a vast array of World War II-themed locations. Experience classic Call of Duty combat, the bonds of camaraderie, and the unforgiving nature of war against a global power throwing the world into tyranny.

Description from Manufacturer ( Mentioned Above ):

Need For Speed PayBack:
Need for Speed returns with a vengeance in Need for Speed Payback

Set in the underworld of Fortune Valley, you and your crew are reunited by a search for vengeance against The House, a nefarious cartel that rules the city's casinos, criminals, and cops. In this corrupt gambler's paradise, the stakes are high and The House always wins. Play a variety of challenges and events as Tyler, the Racer; Mac, the Showman; and Jess, the Wheelman. Each driver must take on races, missions, and challenges to earn the respect of the Valley's underground and compete in the ultimate race to finally take down The House.
Your car is at the centre of everything you do. Craft unique rides with deeper performance and visual customisation than ever before. Push them to the limit when you narrowly escape the heat in epic police chases. Go head-to-head with other racers on- or off-road through canyons, deserts, mountains, and the city. Raise the stakes by putting down additional in-game currency on events, challenges and missions to multiply your winnings, or risk losing it all. For ultimate bragging rights, connect via Autolog recommendations and compete with your friends and – for the first time – with potential rivals. Your leaderboard will populate with other players of similar skill level so you can see how you rank around the world.
From insane heist missions to devastating car battles to jaw dropping set piece moments, Need for Speed Payback delivers an edge-of-your-seat, action-driving fantasy.
Scrap to Stock to Supercar

Endlessly fine-tune your performance through each of the five distinct car classes (Race, Drift, Off-Road, Drag, and Runner), to turn the tables on the competition in any race, mission, or challenge. Find abandoned vehicles scattered throughout the world to build your perfect car from the ground up. Collect, win, or buy the hottest after-market parts and craft a fleet of perfect driving machines.

Live out an action-driving fantasy

Play through an explosive adventure as three distinct playable characters united by a common goal: revenge at any cost. Tyler, Mac, and Jess team up to even the score, and enter the ultimate race to take down The House. Battle cops with ever-increasing intensity, race against rivals across the city, and drive on- and off-road through mountains, canyons, and desert.
High-stakes competition

Get on a roll and win big with risk-versus-reward gameplay. The return of intense cop chases means the stakes have never been higher. Put your reputation on the line and challenge your friends or potential rivals via Autolog recommendations throughout the campaign events or go head-to-head in classic online leaderboards.

Happy Gaming everyone

* All Brands and game names mentioned on EgyNewTech.com are trade marks belong to its' owner ( mentioned above ) and its' owner have all the rights reserved for it; Game code and certain audio and/or visual material belong to its' manufacturers ( mentioned above ) and they have all the rights reserved.