FIFA 18 | XB1
Release date: 29 Sept. 2017




Manufacturer:

Electronic Arts

Rated : Ages 3 and Over

Item Cover may deffer

Pre-Order bonus VALID when place your order before release date and EgyNewTech reserves the right to change or terminate this promotion at any time in which matching publisher Policy, Any issues in using or redeeming the code provided by publisher as a pre-order bonus, customer have to contact the publisher direct. **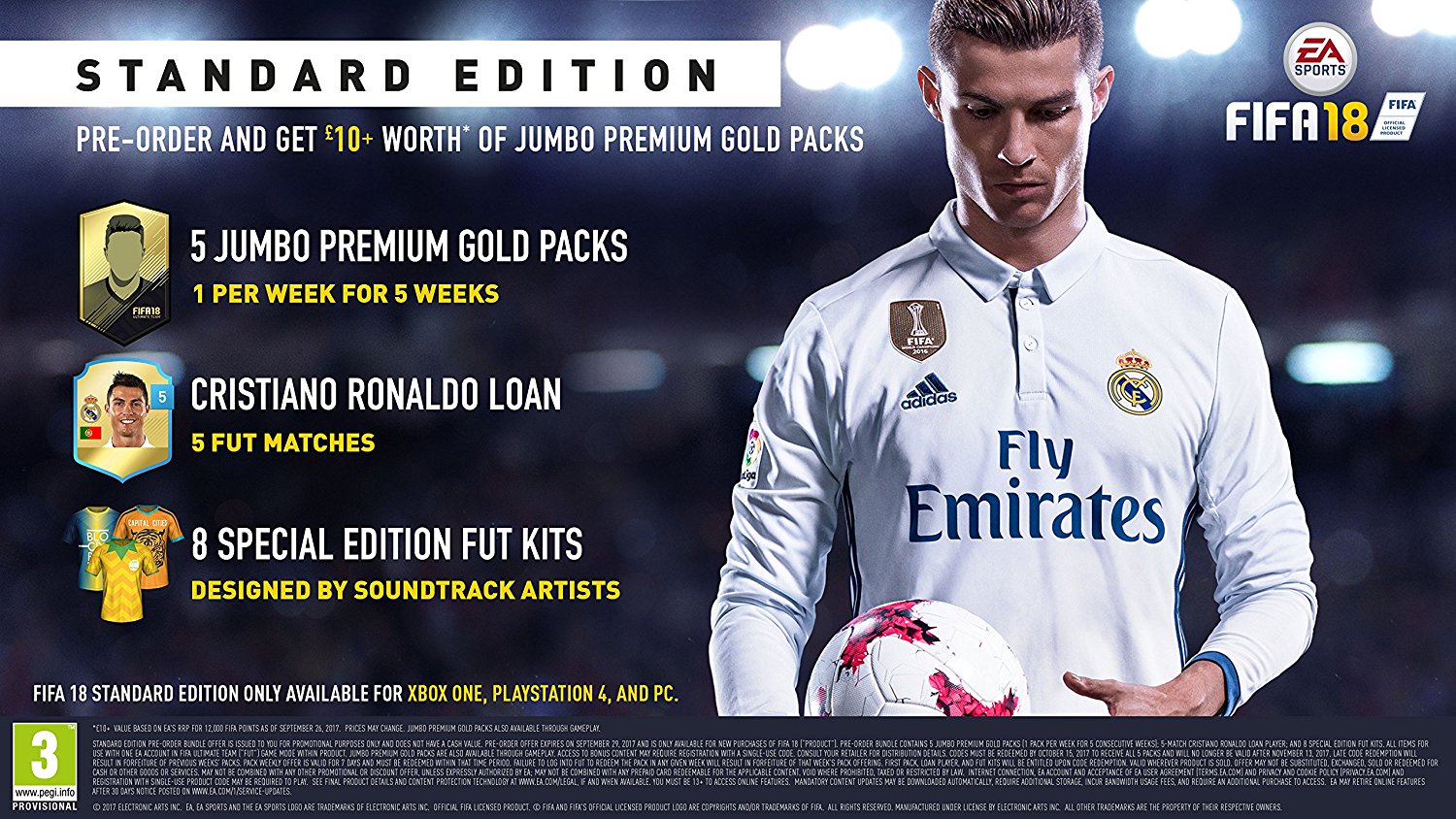 FIFA 18 Highlights;

THE WORLD'S GAME FUELED BY THE WORLD'S BEST
REAL MADRID'S ALL-TIME TOP SCORER AND BACK-TO-BACK EUROPEAN CHAMPION, CRISTIANO RONALDO FUELS INNOVATION AND GRACES THE COVER OF FIFA 18.

Cristiano Ronaldo leads a list of football stars and new characters in the star-studded cast of The Journey: Hunter Returns.

Pre-order offer includes: Up to 5 FIFA Ultimate Team Jumbo Premium Gold Packs (one per week for five weeks - worth up to £10+), Cristiano Ronaldo FUT loan player for 5 matches & 8 special edition FUT kits designed by FIFA soundtrack artists*

Description from Manufacturer ( Mentioned Above ):

Player Control

Real Player Motion Technology:
The all-new, game-changing animation system utilizes pose trajectory matching on every frame to deliver the franchise's most responsive and fluid gameplay ever. New motion capture techniques and frame by frame animation transitions ensure gameplay accurately represents the reality of football. Real Player Motion Tech is the catalyst for an increased fidelity in movement for every player on the pitch, immediately taking authenticity to another level.

Player Personality:
Six new character archetypes and new player mapping technology differentiate players on the pitch to give them their own distinct identity. For the first time ever, real-world movements, size and attributes inform how a player moves, allowing you to feel the life-like tendencies of the world's best. Ronaldo's signature sprint, Sterling's unique turns, and Robben's distinct arm movement are all immediately recognizable in FIFA 18.

Dribbling Overhaul:
In FIFA 18, you will run at defenders with confidence knowing that the best players can change direction on a dime. New dribbling mechanics enable players to inject more creativity into 1v1 situations. Take more defined touches, make tighter turns, and explode into attack more dynamically than ever before.

Team Styles and Positioning

New Player Positioning:
With more freedom in motion, your teammates examine the pitch and react accordingly; darting forward in coordinated runs, or moving into space to provide consistent attacking support. New player positioning gives you a well-balanced and spread pitch with more opportunities in time and space to read the play.

Team Styles:
A deep set of authentic playing styles attributed to several teams put the most-recognized tactics on the pitch in FIFA 18 - now in AI you will immediately recognize the tiki-taka of some of Europe's best clubs or the high-pressing style of teams in the Premier League. Feel a change in defensive and attacking approaches every time you choose a new club or opponent.

Dynamic Quick Substitutes:
All-new context based substitution prompts allow players to easily make changes without pausing the match. Whether it's a missed chance, or necessary response to conceding a goal, you can instantly decide if a change is needed without visiting the menu.

Immersive Atmospheres

Regional Atmospheres:
Authentic sun positions, cinematic atmosphere grading, signature pitch-side fixtures, authentic broadcast overlays in La Liga and MLS, on-pitch debris, club and stadium specific banners, adaptive commentary, and changes in pitch quality all come together to bring the most immersive football experiences to life in FIFA 18.

High-Def Dynamic Crowds:
All-new individual crowd reactions and expanded regional chant support have you feeding off the energy of your supporters. Hear authentic chants build as you mount an attack, incite realistic excitement when you score and even interact with the crowd while celebrating.

Dramatic Moments

Wonder Goals:
New locomotion and finishing animations unlock more fluid striking and heading, combining to increase the potential for more dramatic finishes. Player Personality ensures the heroes of the game stand tall in the biggest moments, finishing more often on the biggest stages.

New Crossing Control:
All-new crossing controls provide the player with a variety of options to put the ball into the box, creating dynamic attacking chances. Whipped to the spot, arching, and back-stick crosses increase the variety of delivery to accurately pick out the attacking player.

The Journey: Hunter Returns - Available on PS4, Xbox One and PC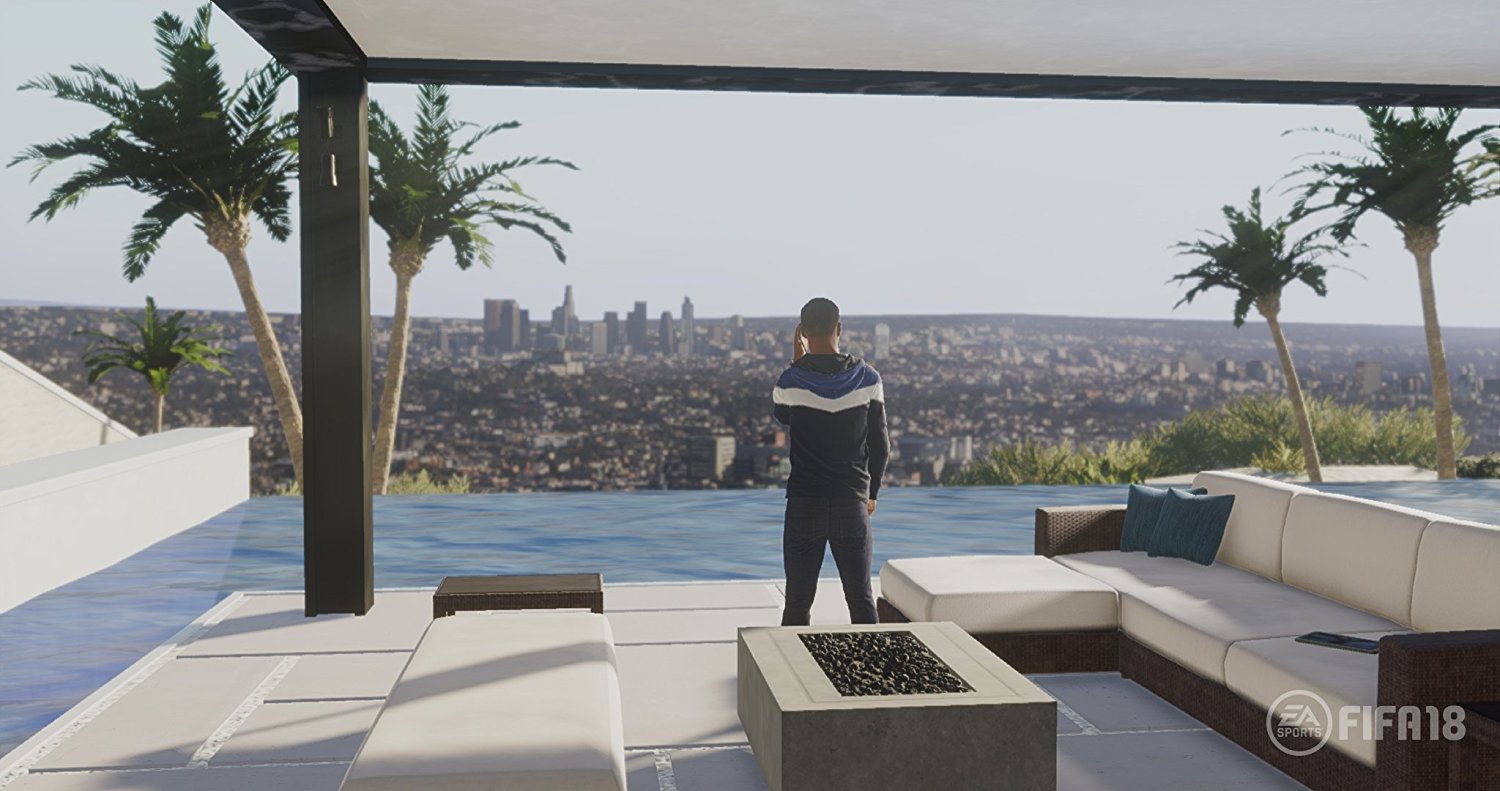 The World's Game takes you on a global journey as Alex Hunter returns along a star-studded cast of characters and top football talent, like Ronaldo and other European stars. After a breathtaking first season in the Premier League, Hunter is gaining recognition from top clubs the world over and he is willing to explore any options coming his way. He feels ready to take the next step, his future is bright, and the world is talking about Hunter….but life in football isn't always fair.

Have a nice game play :)

* All Brands and game names mentioned on EgyNewTech.com are trade marks belong to its' owner ( mentioned above ) and its' owner have all the rights reserved for it; Game code and certain audio and/or visual material belong to its' manufacturers ( mentioned above ) and they have all the rights reserved.