Splatoon 2 | Switch
Release date: 21 July 2017




Manufacturer:

Nintendo

Rated : Ages 7 and Over

Item Cover may deffer

Pre-Order bonus VALID when place your order before release date and EgyNewTech reserves the right to change or terminate this promotion at any time in which matching publisher Policy, Any issues in using or redeeming the code provided by publisher as a pre-order bonus, customer have to contact the publisher direct. **
Splatoon 2 Highlights;
Latest weapons – Splat Dualies.

Local and Online Multiplayer.
More ways to play – Use the Joy-Con or the Pro Controller (sold separately).
Free Updates - post-launch, adding fresh content.
Smart Device Support - set play appointments + voice chat with friends.
Customise – Change your Inkling's style with different weapons, headgear, clothes, and shoes.
amiibo - Compatible with all Splatoon series amiibo figures.
New stages, new fashions and new weapons
Players can compete on the TV or on the go
Using the Nintendo Switch Pro Controller (sold separately) or Joy-Con, players can aim their ink using motion controls
Supports local and online multiplayer
Compatible with the Nintendo Switch only
Description from Manufacturer ( Mentioned Above ):
Breaking News! Splatoon 2: Splatfest World Premiere. Play the free demo.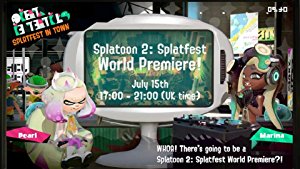 All Switch owners can participate in a free demo event that will take place on July 15th between 17:00 BST and 21:00 BST, a whole week before launch. All you need to do is download the free demo onto your Nintendo Switch via Nintendo eShop and you're good to take part. The free demo is available.
The free demo will allow you to take part in a Splatfest. What's a Splatfest, you ask? They're events that split players into two sides and have them battle one another in 4-on-4 matches for a limited time. Each Splatfest has a polarising theme and players must choose which side they prefer and defend it. They're planned to run for two years after Splatoon 2 launches.

So what's the theme for the Splatoon 2: Splatfest World Premiere? It's Cake vs. Ice Cream. What will your dessert of choice be on July 15th?
What is Splatoon 2?
It's splat or be splatted


The squid kids called Inklings are back to splat more ink and claim more turf in this colourful and chaotic 4-on-4 action shooter.
For the first time, take Turf War battles on-the-go with the Nintendo Switch system, and use any of the console's portable play styles for intense local multiplayer action. Even team up for 4-player co-op fun in Salmon Run.
Two years later


Two years have passed since the original Splatoon game was released, and two years have also passed in Inkopolis. So expect a fresh wave of fashion, not to mention some weapons and gear. Dual wield the Splat Dualies or stick to mainstays like chargers and rollers, which have been remixed with strategic possibilities. As always, Turf War is the favoured sport among Inklings, but they also dig ranked battles, taking down Octarians in a robust single-player campaign, and battling enemy Salmonids in one dangerous part-time job! No matter which way you play, splat at home or on-the-go with Nintendo Switch. Staying fresh never felt so good.

Team up for Salmon Run

There's a curious employment agency called Grizzco in Inkopolis Square where you can find a part-time job. It's dangerous work though! Work as a team to take out incoming Salmonid and collect the Power Eggs they leave behind. You can then sell these Power Eggs and use the proceeds to pay for enhanced weapons and gear.
In order to gather the Power Eggs, you'll need to enter dangerous terrain where the Salmonid live. It's too dangerous to go alone, so you'll form a team of between two and four players.
You can ink with friends - Start splatting pretty much anywhere with the Nintendo Switch console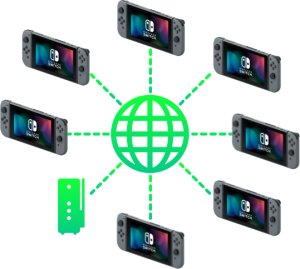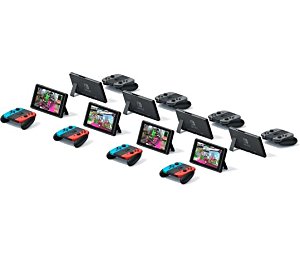 Online Play

Local Wireless

LAN play

Jump online to compete against players from around the world.

Connect up to eight consoles to play Turf War battles with (and against) your friends.


For super-competitive players, you can even host your own Splatoon 2 tournaments using a wired LAN connection

(LAN adapter require; sold separately)

for up to eight systems, plus two spectator slots for a unique look at the action. Fresh.

Turf War - Multiplayer

One of the biggest games around is Turf War, where teams of four face off for three-minute, ink-slinging battles. The winning team is the one to cover the most ground in their colour.

Ranked - Multiplayer

Once you've reached level 10 in Turf War battles, you can get in on serious ranked action. Work your way up from C- based on how your team does. 3 modes:
Splat Zones, Tower Control and Rainmaker.

Salmon Run - Co-op Play

Salmon Run is the most popular gig in town. Two to four team members must work together to fend off waves of enemy Salmonids while collecting valuable Golden Eggs.
Hero Mode - Single Player Campaign

Infiltrate Octo Canyon.
Fight the Octarian menace and save the squidnapped Great Zapfish in this in-depth single-player mode.




Befriend your amiibo characters


You can tap compatible amiibo (sold separately) and they will appear in the game to befriend you in a variety of ways.

Special gear - With compatible amiibo you can acquire special designer gear which can give you the edge over your opponents.

Colour co-ordination - You can store your favourite combinations of gear and weaponry so they'll be ready to select with ease.

Take snaps and share them - Why not take some photos together with your amiibo companions, then share them on social media via the Nintendo Switch Album?
* All Brands and game names mentioned on EgyNewTech.com are trade marks belong to its' owner ( mentioned above ) and its' owner have all the rights reserved for it; Game code and certain audio and/or visual material belong to its' manufacturers ( mentioned above ) and they have all the rights reserved.