Rise of the Tomb Raider: 20 Year Celebration Artbook Edition | PS4
Region All Release date: 10-11-2015

Region 2 Release date: 12-22-2015

Manufacturer: Microsoft

Game Cover may deffer




Pre-Order Price Guarantee




Pre-Order bonus VALID when place your order before release date and EgyNewTech reserves the right to change or terminate this promotion at any time according to publisher, Any problem in using or redeeming the publisher pre-order bonus customer have to contact the publisher direct.



Rise of the Tomb Raider: 20 Year Celebration Artbook Edition Details:
The Critically Acclaimed Action Adventure - In Rise of the Tomb Raider, Lara uncovers an ancient mystery that places her in the cross-hairs of a ruthless organization known as Trinity. As she races to find the secret before Trinity, the trail leads to a myth about the Lost City of Kitezh.
NEW "Blood Ties" Single Player Story - In the wake of her father
NEW "Blood Ties" Nightmare - Lara
NEW 20 Year Celebration Content - Five classic Lara Croft skins as well as a reimagined outfit that pays tribute to Lara
NEW Endurance Mode Co-Op: You and a friend must scrounge, scavenge and craft to survive the harsh elements by day, as well as lethal threats from enemies, both man and beast, by night. This is the ultimate test to see how long you and a friend can survive the sprawling, unforgiving landscapes. Fire takes fuel, cold kills the unprepared, food restores health, and everything must be caught, collected, or crafted. You start with nothing and must find everything. Work together and challenge others to your longest survival run and battle to the top of the leaderboards.
Includes all DLC - Includes all downloadable content that will extend your single-player campaign and will allow you to compete with friends. Three major releases will challenge you to survive the extreme conditions of Endurance Mode, explore a new tomb that houses an ancient terror in Baba Yaga: The Temple of the Witch, and combat waves of infected predators in Cold Darkness Awakened. In addition, new outfits, weapons, and Expedition Cards will keep you customizing, expanding, and challenging your friends to new adventures.
In Game Bonus with Purchase:
Xbox Live Gold Members who play Rise of the Tomb Raider before November 30, 2015 11:59 PM PST will receive the Rattlesnake Revolver Skin. The download code will be delivered as an Xbox One message from Xbox Live.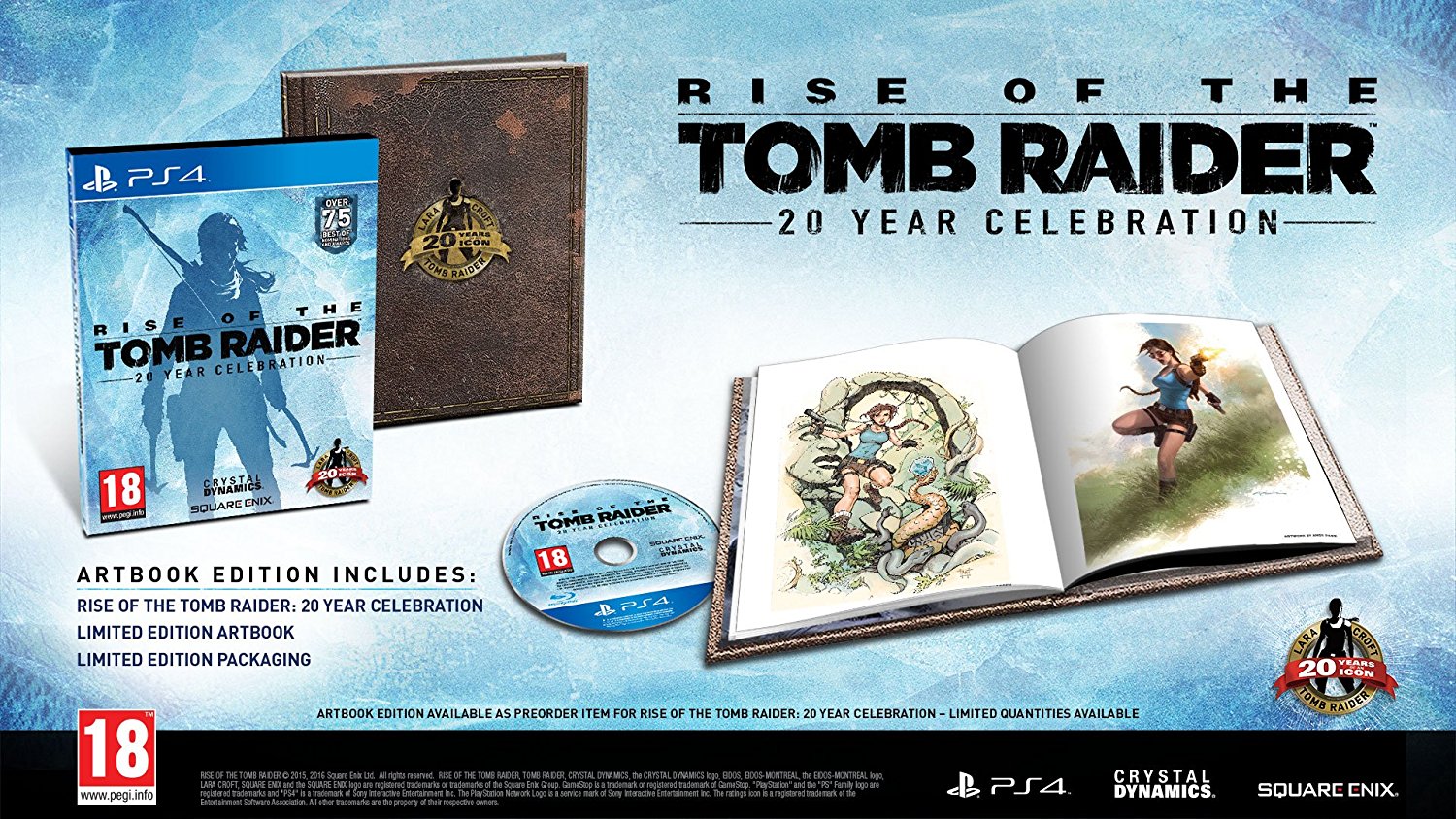 Rise of the Tomb Raider – "Make Your Mark" Launch Trailer

Description from Manufacturer
After uncovering an ancient mystery, Lara Croft embarks on a journey throughout the most treacherous and remote regions of the world to find the secret of immortality. Forming powerful new alliances and relying on her intellect and survival skills, Lara will ultimately embrace her fate as the Tomb Raider. Featuring epic, high-octane action moments set in the most beautifully hostile environments on earth, Rise of the Tomb Raider delivers a cinematic survival action adventure where you will join Lara Croft on her first tomb raiding expedition and witness the rise of an icon.
Awe-Inspiring Deadly Tombs
Explore huge ancient spaces littered with deadly traps, solve dramatic environmental puzzles, and decipher ancient texts to reveal crypts as you take on a world filled with secrets to discover.
Woman vs. Wild
Conquer a world fiercely protecting its secrets, endure perilous conditions and unstable landscapes, face dangerous wildlife that act as guardians to ancient tombs, and explore huge interactive environments.
Guerrilla Combat

Use the environment to your advantage, scale trees and dive underwater to avoid or takedown enemies, configure Lara's gear, weapons, and ammo to suit your play style, craft explosives on the fly to sow chaos, and wield Lara's signature combat bows and climbing axe.
Have a nice gameplay

All Brands and game names are trade marks mentioned on EgyNewTech.com belong to it's owner ( mentioned above ) and it's owner have all the rights reserved for it; Game code and certain audio and/or visual material belong to it's manufacturers ( mentioned above ) and they have all the rights reserved.