Final Fantasy XV - Day One Edition | PS4
Release date: 29-11-2016




Manufacturer:

Square Enix

Rated : Ages 16 and Over

Game Cover may deffer

Pre-Order bonus VALID when place your order before release date and EgyNewTech reserves the right to change or terminate this promotion at any time according to publisher, Any problem in using or redeeming the publisher pre-order bonus customer have to contact the publisher direct. **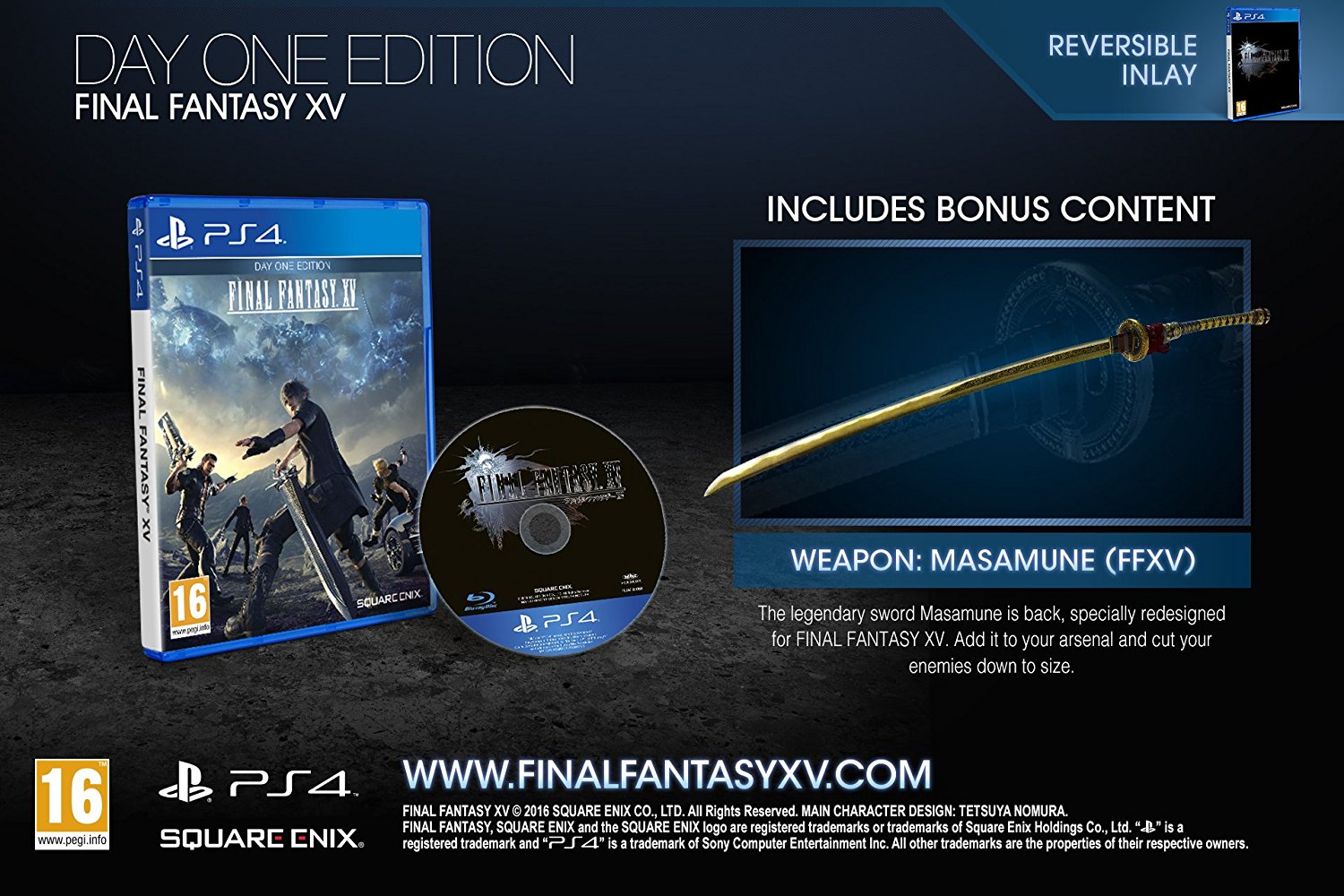 Final Fantasy XV - Day One Edition Highlights;
FINAL FANTASY XV Game Disc

Bonus Downloadable Content - Masamune sword. Add the legendary Masamune to your arsenal and cut foes down to size!

Engage In Action-Packed Battles: Customise your array of weapons and use each character's unique assists in an exciting real-time battle system, that is both user-friendly and with depth to explore. Warp around the battlefield landing tactical strikes, special moves and conjure ever-more-powerful spells, as your party progresses in its experience.

Embark On A Journey Without Limits: Take the wheel and drive from the capital to the back roads with your best friends, or venture out on foot to discover a vast landscape of teeming wildlife, dangerous caverns and living cities full of adventure.

Experience Unbreakable Bonds: As Noctis, feel connections strengthen as you and your friends grow closer along the journey. Reclaiming ones homeland relies on strength and courage, and most importantly togetherness. Perform powerful cooperative moves in battle and revel in the teamwork displayed by Noctis and his friends.
Final Fantasy XV - Omen ( Video All Rights reserved to Publisher - mentioned on the video )

Final Fantasy XV – Ride Together ( Video All Rights reserved to Publisher - mentioned on the video )
Description from Manufacturer ( Mentioned Above )

Final Fantasy XV Features;
Enroute to wed his fiancée Luna on a roadtrip with his best friends, Prince Noctis is advised by news reports that his homeland has been invaded and taken over under the false pretence of a peace treaty – and that he, his loved one and his father King Regis, have been slain at the hands of the enemy.
To gather the strength needed to uncover the truth and reclaim his homeland, Noctis and his loyal companions must overcome a series of challenges in a spectacular open world that is filled with larger-than-life creatures, amazing wonders, diverse cultures and treacherous foes.
Characters

Noctis: Heir apparent to the Lucian throne, Noctis's trials begin when he sets forth from the crown city in order to wed the Lady Lunafreya Nox
Fleuret. In combat, he wields spectral weapons which he forges from thin air, a power possessed by those of his royal line.
Gladiolus: The Amicitia family has long served as the shield protecting the kings of Lucis and their household, and Gladiolus is its eldest son. The bond he shares with Noctis transcends that of a bodyguard and his liege. With his prodigious strength, he stands ever ready to keep his companions from harm.
Ignis: Ignis was raised alongside Prince Noctis to be adviser to the heir apparent. An intensive education instilled in him the resourcefulness and composure required for the role, his tactical acumen proving invaluable over the course of the prince's journey.
Prompto: Fast friends with Noctis since they met as teenagers, Prompto is a young man of common birth who finds himself out of his depth when tragedy befalls Lucis. Nevertheless, he strives to carry more than his own weight, lightening his companions' burdens as well as their spirits.
Luna: Luna made many fond memories with Noct in their childhood, but their days of innocence ended abruptly when the empire overtook her home of Tenebrae. Through adversity, she became the youngest Oracle in history. Adored and respected the world over, she now travels in search of communion with the gods to aid Noct on his journey.
Regis: The reigning monarch of the Kingdom of Lucis, Regis raised his son, Prince Noctis, on his own. For long years, he has sustained the Wall, a magical barrier that encases the Crown City, protecting it from invasion. However, tragedy would befall him at the treaty signing with Niflheim, during which he was reportedly slain.
Have a nice game play :)

* All Brands and game names mentioned on EgyNewTech.com are trade marks belong to its' owner ( mentioned above ) and its' owner have all the rights reserved for it; Game code and certain audio and/or visual material belong to its' manufacturers ( mentioned above ) and they have all the rights reserved.