Deus Ex: Mankind Divided Day One Edition | PS4
Region All Release date: 23-08-2016

Region 2 Release date: 23

-08-2016

Manufacturer:

Square Enix

Rated : Ages 18 and Over

Game Cover may deffer

Pre-Order bonus VALID when place your order before release date and EgyNewTech reserves the right to change or terminate this promotion at any time according to publisher, Any problem in using or redeeming the publisher pre-order bonus customer have to contact the publisher direct. **
Deus Ex: Mankind Divided Day One Edition Highlights;
Secure the Day 1 edition now to gain access to all of the following items:




Three Weapon/Item Packs

Extra In-Game Mission

Digital OST Sampler, Digital Comic Book, Digital Novella & Digital Artbook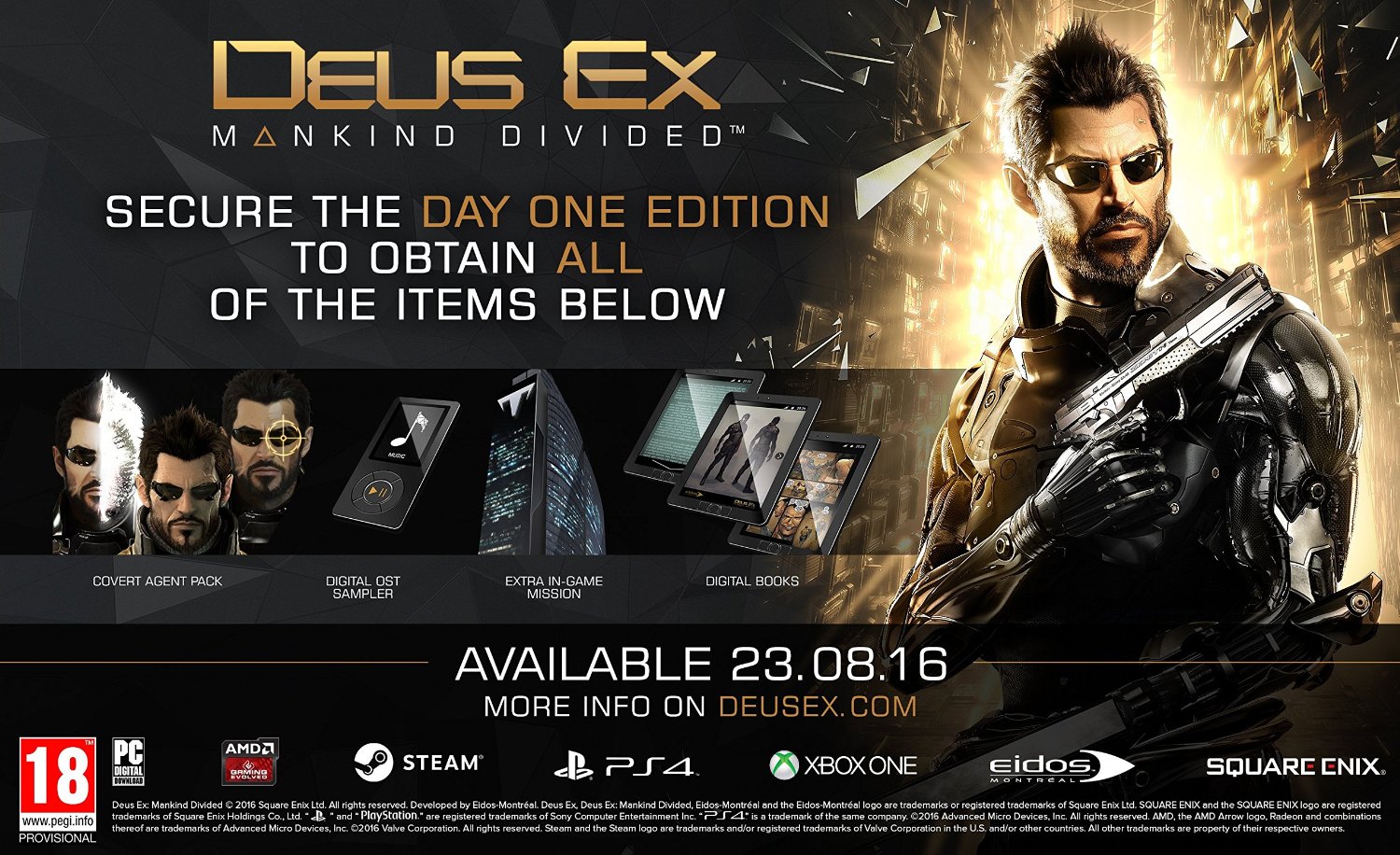 Deus Ex: Mankind Divided - Launch Trailer ( Video All Rights reserved to Publisher - mentioned on the video )
Description from Manufacturer ( Mentioned Above )

Deus Ex: Mankind Divided Day One Edition Game Features;
MEANINGFUL CHOICE AND CONSEQUENCES
Experience the renowned world of Deus Ex, where the decisions you make and the actions you take play a crucial role in determining the game's outcome. Choose between combat, stealth, social, and hacking approaches to achieve your objectives. Mankind Divided also introduces Black Market augmentations that, while illegal, can grant you access to unique and powerful benefits that no legal augmentations can provide. Be mindful though, as there will be a meaningful consequence to every action and choice you make.
HUMAN 2.0
Become the ultimate augmented covert agent. Choose from a vast array of cutting edge weapons and augmentations, customizing them exactly to your desired specifications. Unlock new abilities, increase your stealth, social, hacking or combat skills, and determine how you want your character to evolve in order to fit your play style.
IN THE NEAR FUTURE, MANKIND STANDS DIVIDED

Explore diverse locations and discover a near future setting where the fate of humanity hangs in the balance. The oppression of the mechanically augmented has created a climate of fear and resentment, resulting in an escalation of crime and acts of terror. Amid all the chaos, secret organizations are working behind the scenes, attempting to manipulate and control the fate of mankind.

Have a nice game play :)

* All Brands and game names mentioned on EgyNewTech.com are trade marks belong to its' owner ( mentioned above ) and its' owner have all the rights reserved for it; Game code and certain audio and/or visual material belong to its' manufacturers ( mentioned above ) and they have all the rights reserved.