Battlefield 1 Revolution - Arabic Subtitle - PS4
Release date: 22 Aug. 2017




Manufacturer:

Electronic Arts

Rated : Ages 18 and Over

Game Cover may deffer

Pre-Order bonus VALID when place your order before release date and EgyNewTech reserves the right to change or terminate this promotion at any time according to publisher, Any problem in using or redeeming the publisher pre-order bonus customer have to contact the publisher direct. **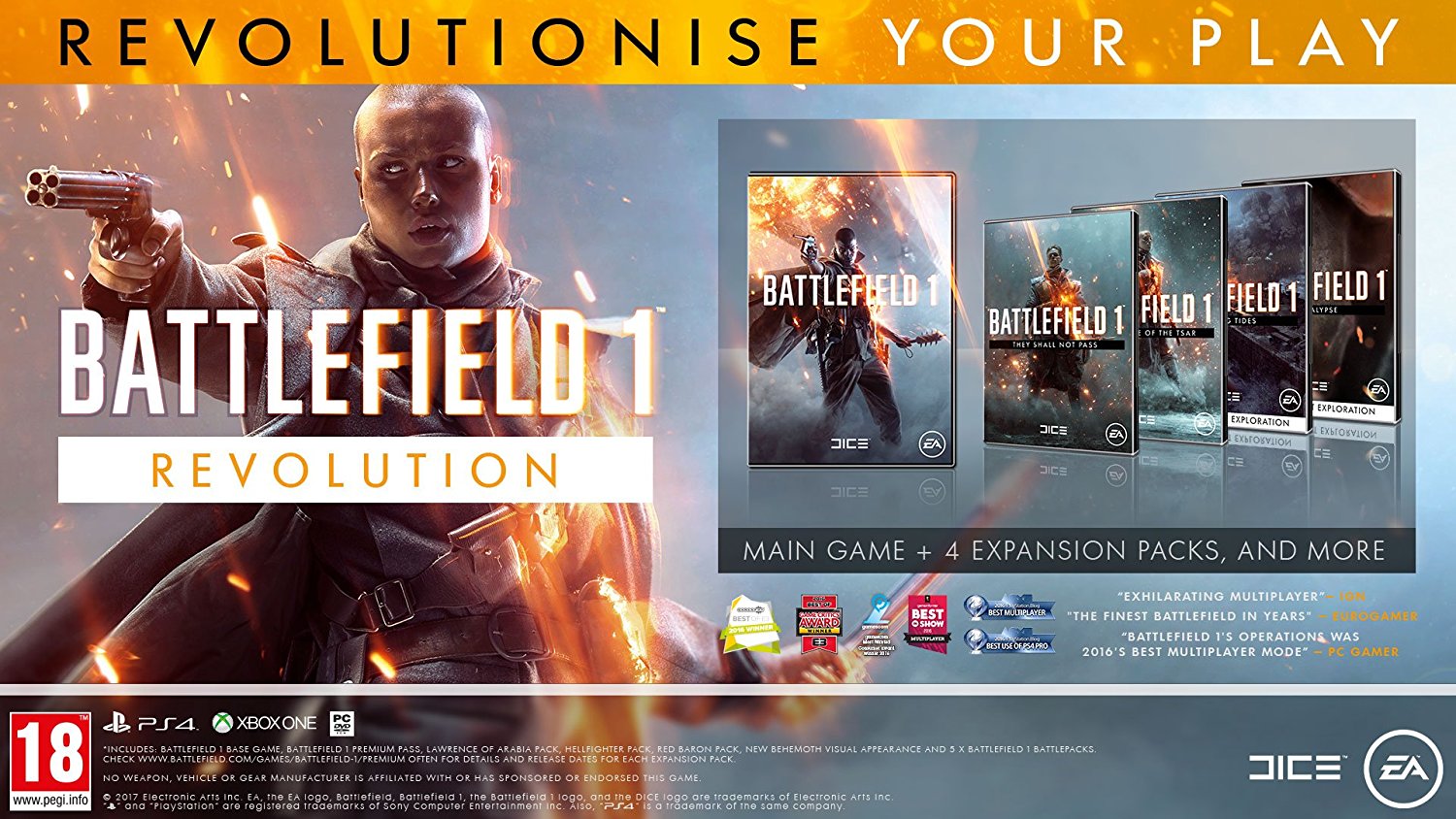 Battlefield 1 Highlights;

Bring the all-out war to new fronts with Battlefield 1 Premium Pass including multiplayer maps, armies and more in four themed digital expansion packs.
14 Battlefield 1 Battle packs containing stand-out weapon skins
14 unique dog tags distributed over the course of the Battlefield 1 Premium Pass period
Description from Manufacturer ( Mentioned Above )

Battlefield 1 Revolution;

Join the strong Battlefield community and jump into the epic battles of The Great War in this critically acclaimed first-person shooter. Battlefield 1 Revolution is the complete package at a great value containing:

Battlefield 1 base game
Experience the dawn of all-out war in Battlefield 1. Discover a world at war through an adventure-filled campaign, or join in epic team-based multiplayer battles with up to 64 players. Fight as infantry or take control of amazing vehicles on land, air and sea. And adapt your gameplay to the most dynamic battles in Battlefield history.

Battlefield 1 Premium Pass*

Four themed digital expansion packs with new multiplayer maps, new weapons and more.
Two-week early access to any unreleased expansion.
Battlefield 1 They Shall Not Pass: The hardened veterans of the French army make a stand in a brutal defense of their homeland.
Battlefield 1 In the Name of the Tsar: Enter the largest front of World War I with the Russian army in blistering winter.
Battlefield 1 Turning Tides: Participate in the amphibious warfare of World War I.
Battlefield 1 Apocalypse: Go over the top in hellish infamous battles during the most cataclysmic time of the war.
Also includes:

14 Battlefield 1 Superior Battlepacks, each containing one stand-out weapon skin, delivered monthly starting November 2016. When becoming a Premium Pass member, you retroactively get the Battlepacks that have already been handed out since November 2016.
14 unique dog tags distributed over the course of the Battlefield 1 Premium Pass period.
Priority position in server queues.
Additional content:

Red Baron Pack, Lawrence of Arabia Pack and Hellfighter Pack – containing themed weapons, vehicles and emblems based on the famous heroes and units.
New visual appearance of the Behemoths, the largest vehicles in Battlefield 1.
Five Battlefield 1 Battlepacks, each containing one stand-out weapon skin.
LEGAL LINES

2017 Electronic Arts Inc. EA, the EA logo, Battlefield, Battlefield 1 and the Battlefield 1 logo are trademarks of Electronic Arts Inc. "PlayStation" is a registered trademark or trademark of Sony Interactive Entertainment Inc. * Early access only available for any expansion pack not yet released. Check Battlefield 1 website often for details and release dates for each expansion pack. Early access to Battlefield 1 They Shall Not Pass no longer available. Requires all game updates, internet connection, EA account. For console players, Xbox Live Gold (sold separately), or PlayStationPlus
membership (sold separately) and an account for PlayStationNetwork required for some features, including online game features. NO WEAPON, VEHICLE OR GEAR MANUFACTURER IS AFFILIATED WITH OR HAS SPONSORED OR ENDORSED THIS GAME. Conditions and restrictions apply.
Happy Gaming everyone

* All Brands and game names mentioned on EgyNewTech.com are trade marks belong to its' owner ( mentioned above ) and its' owner have all the rights reserved for it; Game code and certain audio and/or visual material belong to its' manufacturers ( mentioned above ) and they have all the rights reserved.