Sony DualShock 4 Wireless Controller - New Version | Glacier White
Video and Description from the Manufacturer
Price Subject to change.
Broadcast Instantly


SHARE Button
Why not share triumphs and accomplishments with friends via popular social networks at the touch of a button?.

Hear Every Detail
Built-in Mono Speaker and Headset Jack
Make the details stand out. Enjoy high-fidelity sound effects through the controller and chat with online friends via a headset.


Feel the Action
Enhanced Vibration
Not only will you see and hear everything in even deeper detail, you'll feel it too with more intense vibration motors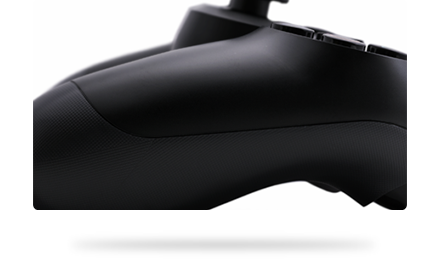 Precision Design

New Shape
Take control in even more comfort thanks to a new design, while improved analog sticks and buttons mean greater precision.

New Ideas
Touch Pad​
Guide, gesture or draw with the Touch Pad. Located on the front of the controller, it'll free the way you play.
​


Personalised Play
Light Bar
Four colour LEDs offer a simple way to identify players and quickly see useful game information, such as a character taking major damage.
Official Dualshock 4 Wireless Controller specifications:


External Dimensions
Approx. 162mm x 52mm x 98mm (width x height x depth) (tentative, excludes largest projection)
Weight:
Approx. 210g (tentative)
Keys / Switches:
PS button, SHARE button, OPTIONS button, Directional buttons (Up/Down/Left/Right), Action buttons (Triangle, Circle, Cross, Square), R1/L1/R2/L2, Left stick / L3 button, Right stick / R3 button, Pad Button
Touch Pad:
2 Point Touch Pad, Click Mechanism, Capacitive Type
Motion sensor:
Six-axis motion sensing system (three-axis gyroscope, three-axis accelerometer)
Other Features:
Light Bar, Vibration, Built-in Mono Speaker
Ports:
USB (Micro B), Extension Port, Stereo Headset Jack
Wireless Communication:
Bluetooth® Ver2.1+EDR
Battery:
Type: Built-in Lithium-ion Rechargeable Battery
Voltage: DC3.7V (tentative)
Capacity: 1000mAh (tentative
Have a nice game play :)
* All Brands and game names mentioned on EgyNewTech.com are trade marks belong to its' owner ( mentioned above ) and its' owner have all the rights reserved for it; Game code and certain audio and/or visual material belong to its' manufacturers ( mentioned above ) and they have all the rights reserved.