Far Cry Primal - Special Edition | PC Disc
Region All Release date: 01-03-2016

Region 2 Release date: 01-03-2016

Manufacturer:

UbiSoft

Game Cover may deffer




Pre-Order Price Guarantee




Pre-Order bonus VALID when place your order before release date and EgyNewTech reserves the right to change or terminate this promotion at any time according to publisher, Any problem in using or redeeming the publisher pre-order bonus customer have to contact the publisher direct. **



Far Cry Primal highlights,
Stone Age By Far Cry: Enter an open world sandbox filled with the unpredictable chaos and peril that the Award-winning Far Cry franchise is known for.

Rise Above Extinction: Defeat the deadly tribes of Oros with all new weapons and tools in the original fight for humanity's survival.

Control Epic Beasts: Tame every predator and choose how you use their specific skills to slay your foes.

Discover the Deadly World of Oros: Fight to survive amid lush redwood forests, harsh taiga, frozen tundra, and murky swamps.

Be the Mammoth: Pre-order now to receive The Legend of the Mammoth Mission Pack.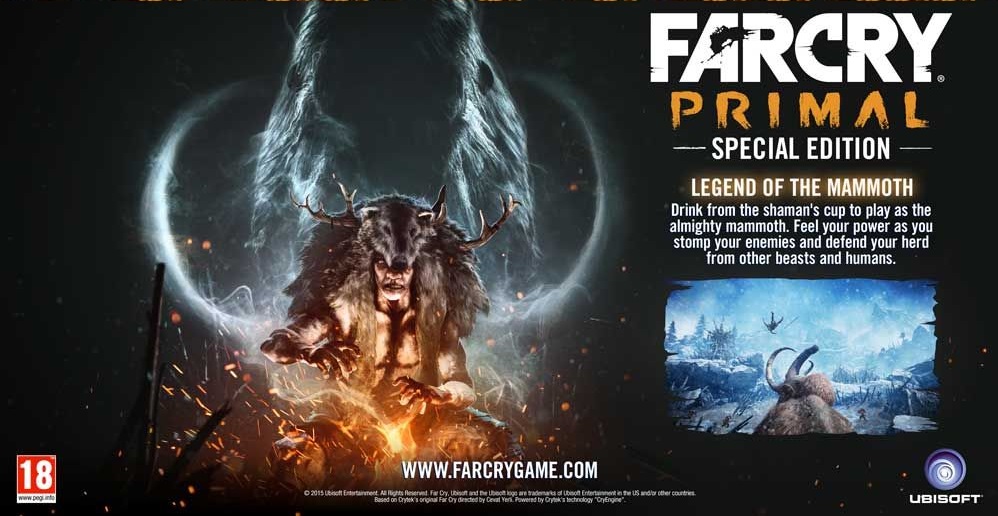 Far Cry Primal – Official Reveal Trailer

Far Cry Primal – King of the Stone Age
Description from Manufacturer

Far Cry Primal

Game Story

Welcome to the Stone Age, a time of extreme danger and limitless adventure, when woolly mammoths and saber-toothed tigers ruled the Earth, and humanity is struggling to climb the food chain. As the last survivor of your hunting group, you will have to conquer the land of Oros and outsmart enemy tribes to become the apex predator.
Rise Above Extinction

Play as Takkar, a seasoned hunter. You have one goal: survive in a world where you are the prey.
A World Ruled by Giant Beasts
This is Earth before man laid claim to it, where deadly saber-toothed tigers and other predators ruled the world and woolly mammoths were king.
Wild beasts are not your only concern, as the humans are just as predatory and brutal.

Have a nice game play

* All Brands and game names mentioned on EgyNewTech.com are trade marks belong to its' owner ( mentioned above ) and its' owner have all the rights reserved for it; Game code and certain audio and/or visual material belong to its' manufacturers ( mentioned above ) and they have all the rights reserved.