Ratchet & Clank: Rift Apart - Global - PC Steam Digital Code
DISCOVER Ratchet & Clank: Rift Apart :
The intergalactic adventurers are back with a bang in Ratchet & Clank: Rift Apart!

Go dimension-hopping with Ratchet and Clank as they venture onto a PC near you for the very first time. Help them take on an evil emperor from another reality as you jump between action-packed worlds and beyond.

With their own universe next in the firing line, dust off the dynamic pair's outrageous weaponry and stop a dimensional collapse in its tracks!

Unite the double team supreme with a cast of familiar allies and new faces, including newcomer Rivet. She's a Lombax resistance fighter from another dimension, who is just as determined to take out the robotic scourge.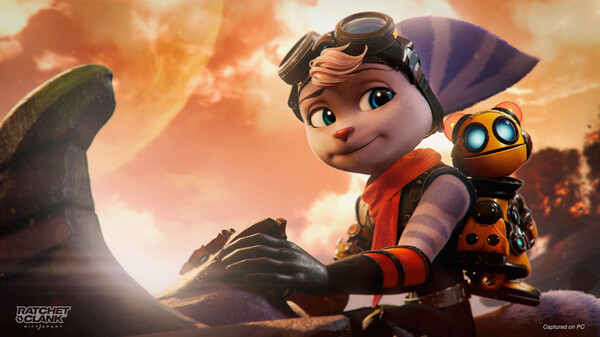 Join the heroes
Employ an epic arsenal of explosive weapons, including the Burst Pistol, Topiary Sprinkler and the Shatterbomb.

Zip above cityscapes, boost into combat and slip through dimensions with physics-defying new gadgets.

Connect with the sounds of combat and explore in wonder as worlds come to life, enveloping you with high fidelity sound.

Sense the impact of in-game rumbles and explosions through the DualSense™ wireless controller's haptic feedback.




Travel in style
Planet-hop with abandon as this adventure sends you hurtling across the galaxy at hyper-speed.

Experience the intergalactic shuffle of dimensional rifts as they combine new worlds and gameplay.

Warp across battlefields to rapidly gain your combat advantage and repair planetary rifts with dimension-spanning puzzles.

Explore never-before-seen planets and see alternate dimension versions of old favorites, now more alive than ever with exotic flora and fauna.


An epic journey awaits
Play as Ratchet and as newcomer Rivet – a Lombax resistance fighter from another dimension.
Discover Clank's all-new interdimensional mechanics.


PC features
Blast your way through an interdimensional adventure as Ratchet and Clank make their way to PC for the very first time!
Wrap your eyes around delightful, diverse dimensions, with ultra-wide support for 21:9, 32:9, and 48:9 (triple monitor support) resolutions!*
See the omniverse brought to life with the option of unlocked frame rates! You can also enjoy ray-traced reflections, as well as newly added, ray-traced shadows for exteriors.**
Witness the latest upscaling technologies, including NVIDIA DLSS 3, AMD FSR 2, Intel XeSS and Insomniac Games' Temporal Injection. NVIDIA Reflex and image quality-enhancing NVIDIA DLAA are also supported. Tailor a variety of graphics quality options to a range of devices, from high-end PCs to portable PC gaming devices.
Play with the DualSense™ controller to experience haptic feedback and dynamic trigger effects.*** Or choose mouse and keyboard – with a wide range of control customization options.
Includes support for achievements and cloud saves on PC game launchers.


* All Brands and game names mentioned on EgyNewTech.com are trade marks belong to its' owner ( mentioned above ) and its' owner have all the rights reserved for it; Game code and certain audio and/or visual material belong to its' manufacturers ( mentioned above ) and they have all the rights reserved.
Specification
Region
Global
Language
English, French, Italian, German, Spanish - Spain, Portuguese - Brazil, Polish, Simplified Chinese, Traditional Chinese, Japanese, Korean
Platform
Steam
Age Rating
Ages 12 and Over
Release Date
July 26, 2023
How to Redeem The Digital Code
Steam

Launch Steam and log into your account, if you don't have account please follow the application instructions to register new account
Once logged in, At the bottom-left of your Library page, you'll see a plus symbol labelled "Add a Game." Click it, and then select "Activate a Product on Steam
Steam will prompt you with its Subscriber Agreement. Click "I Agree," and then you'll be presented with a text field to input the game code
Once you enter the code and click "Next," the game will begin downloading
System Requirements
Minimum System Requirement
OS: Windows 10 (version 1909 or higher)
Processor: Intel Core i3-8100 or AMD Ryzen 3 3100
Memory: 8 GB RAM
Graphics: NVIDIA GeForce GTX 960 or AMD Radeon RX 470
DirectX®: Version 12
Storage: SSD with 75 GB available space
Internet: Broadband Connection
Recommended System Requirement
OS: Windows 10 (version 1909 or higher)
Processor: Intel® Core i5-4670K or AMD™ R3-1300X
Memory: 16 GB RAM
Graphics: NVIDIA GeForce RTX 2060 or AMD Radeon RX 5700
DirectX®: Version 12
Storage: SSD with 75 GB available space
Internet: Broadband Connection