Psychonauts 2 - Global - PC Steam Digital Code
Razputin "Raz" Aquato, trained acrobat and powerful young psychic, has realized his lifelong dream of joining the international psychic espionage organization known as the Psychonauts! But these psychic super spies are in trouble. Their leader hasn't been the same since he was rescued from a kidnapping, and what's worse, there's a mole hiding in headquarters.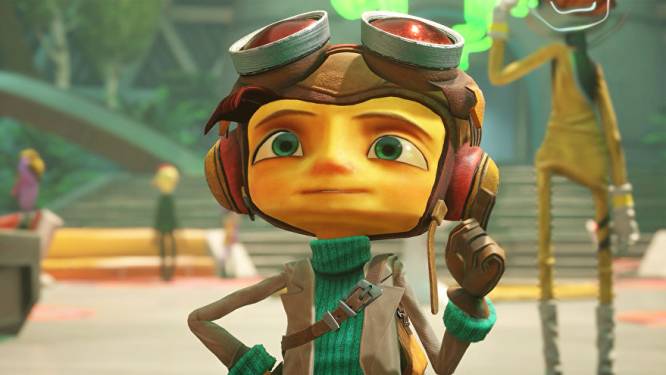 Combining quirky missions and mysterious conspiracies, Psychonauts 2 is a platform-adventure game with cinematic style and tons of customizable psychic powers. Psychonauts 2 serves up danger, excitement and laughs in equal measure as players guide Raz on a journey through the minds of friends and foes on a quest to defeat a murderous psychic villain.
• Experience an imaginative, cinematic story that mixes humor and intrigue, brought to you by legendary game designer Tim Schafer (Grim Fandango, Brütal Legend, Broken Age).
• Explore unique environments using Raz's ability to dive into people's brains to battle their inner demons, unlock hidden memories, and resolve their emotional baggage.
• Leap acrobatically through the air, traversing tightropes and trapezes in a varied, challenging, and joyful platforming experience.
• Wield a powerful array of psychic powers to blast, burn and levitate things, or even slow down time itself to solve environmental puzzles and battle strange enemies.
❤️ Happy Gaming everyone ❤️

* All Brands and game names mentioned on EgyNewTech.com are trade marks belong to its' owner ( mentioned above ) and its' owner have all the rights reserved for it; Game code and certain audio and/or visual material belong to its' manufacturers ( mentioned above ) and they have all the rights reserved.

Specification
Region
Worldwide
Language
English, German, French, Italian, Portuguese, Spanish.
Platform
Steam
Age Rating
Ages 12 and Over
Release Date
August 25 , 2021
How to Redeem The Digital Code
Steam
1- Launch Steam and log into your account, if you don't have account please follow the application instructions to register new account.
2- Once logged in, At the bottom-left of your Library page, you'll see a plus symbol labelled "Add a Game." Click it, and then select "Activate a Product on Steam...
3- Steam will prompt you with its Subscriber Agreement. Click "I Agree," and then you'll be presented with a text field to input the game code.
4- Once you enter the code and click "Next," the game will begin downloading..
System Requirements
Minimum System Requirement
- OS: Windows 7 (64 bit).
- Processor: : Intel Core i3-3225, AMD Phenom II X6 1100T.
- Memory: 8 GB RAM.
- Graphics: Nvidia GeForce GTX 1050, AMD Radeon RX 560.
- DirectX: Version 11.
- Storage: 30 GB available space.
- Additional Notes: 2 GB video memory.

Recommended System Requirement
- OS: 64-bit Windows 10.
- Processor: Intel Core i7-7700K, Ryzen 5 1600.
- Memory: 8 GB RAM.
- Graphics: Nvidia GeForce GTX 1060, AMD Radeon RX 580.
- DirectX: Version 12.
- Storage: 30 GB available space.
- Additional Notes: 6 GB video memory.