PES 2019 - David Beckham Edition | PC - Steam Digital Code
Release date: 30 Aug. 2018




Manufacturer:

Konami

Rated : Ages 3 and Over

Item Cover may deffer

Pre-Order bonus VALID when place your order before release date and EgyNewTech reserves the right to change or terminate this promotion at any time in which matching publisher Policy, Any issues in using or redeeming the code provided by publisher as a pre-order bonus, customer have to contact the publisher direct. **
Pro Evolution Soccer 2019 Highlights;
Player individuality taken to the next level, where skills and player strengths are more prominent in gameplay and motion. Introduction of 11 new skill traits which help enhance player uniqueness.
Visible fatigue - Players will give visual signs they are suffering with fatigue, or simply don't have enough energy to get back into position. Playing tired players will result in injury.
Quick subs available when ball goes out of play, with pre-set recommended changes also available.
Dribbling animation and fluidity now based on variety of factors, such as player positioning, distance from the ball, and proximity of the opposition.
New shooting mechanics, including unique animations based on player and ball position, as well as balancing of ball speed based on player skill and shooting situation
Description from Manufacturer ( Mentioned Above ):
Pro Evolution Soccer 2019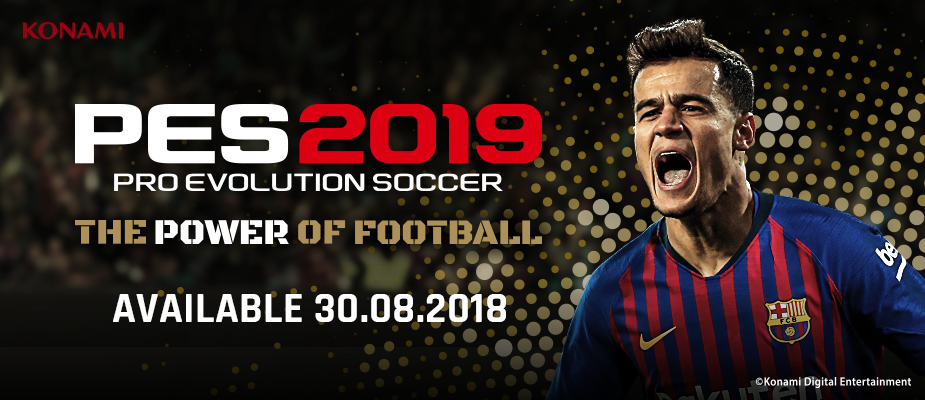 The power of football is the key message that feeds into all the new features coming for PES 2019, which in part is thanks to the commitment to only release on new gen hardware. This allows PES to recreate the real sport like never before, supporting 4K HDR across all platforms, offering photo realistic visuals and lifelike player movement. The true power of PES is seen in its gameplay, which focuses on the impact of player individuality through specific stats and motions. User will feel the finishing prowess of Luigi Suarez, the unique dribbling ability of Philippe Coutinho, and the accurate passing of iconic legend David Beckham. Away from the pitch, licenses and game modes have seen the biggest changes in 4 years, with new leagues added across the world. This adds newfound depth to Myclub and Master League, which both are given a complete overhaul, giving fans the depth beyond the awarding-winning gameplay. Adding in new legends with dedicated David Beckham SKU, menus that come alive, and launching in August worldwide, users can experience the power of football earlier than ever before!

NEW MYCLUB

Obtain strong players, play CO-OP or go up against your rivals and compete in PES LEAGUE. High Performance Players will be introduced to the game with boosted stats and possibly new skills for a limited period. Strengthen your squad with special versions of your favourite players or get introduced to new players that performed well.
PES LEAGUE weekly matches is a new feature to myClub! Compete against other users within your group, featuring a good balance of people to match up with.
Legend Players like Beckham, Maradona, Cruyff, Nedvěd, Gullit, Maldini and Kahn will appear in PES 2019. New Legends will also be introduced later.
MAGIC MOMENTS

The drama of the beautiful game, more visible and clearly portrayed through the many different playing styles.
Introduction of 11 new skill traits that will help enhance player uniqueness, including edge turn, no look pass, control loop, dropping shot and rising shot.
Player individuality has also been taken to the next level, where skills and strengths are more prominent in impact and motion during gameplay.
New shooting mechanics with unique varied animations have been introduced.
A significant introduction is Visible Fatigue, which is a reworked, rebalanced stamina system.
Quick substitutions will be available when the ball goes out of play. No need to interrupt the gameplay during a tense match!
THE BEAUTIFUL GAME

4K HDR support across all capable platforms. Experience PES 2019's realistic visuals with more clarity and realistic range of colours.
Enlighten software has been used to rework lighting, both natural and stadium based. Stands and pitches will closely mirror their real life counterparts depending on the time of day, bringing a more realistic look and feel to PES 2019.
Snow weather effects have been added. Not only will snow appear in the game, it will also affect gameplay. You will need to plan your strategy and make key choices based on the weather.
ML REAL SEASON

Pre-season featuring the International Champions Cup, improved negotiation for transfers and more licensed leagues, these key changes will make you feel more like an actual manager. Find your best 11, determine your strategy and finalise your tactics for the new campaign.

Happy Gaming everyone

* All Brands and game names mentioned on EgyNewTech.com are trade marks belong to its' owner ( mentioned above ) and its' owner have all the rights reserved for it; Game code and certain audio and/or visual material belong to its' manufacturers ( mentioned above ) and they have all the rights reserved.