Metal Gear Solid V: The Phantom Pain - PC Steam Digital Code
Release date: September,01 2015




Manufacturer:

Konami

Rated : Ages 18 and Over

Item Cover may deffer

Pre-Order bonus VALID when place your order before release date and EgyNewTech reserves the right to change or terminate this promotion at any time in which matching publisher Policy, Any issues in using or redeeming the code provided by publisher as a pre-order bonus, customer have to contact the publisher direct. **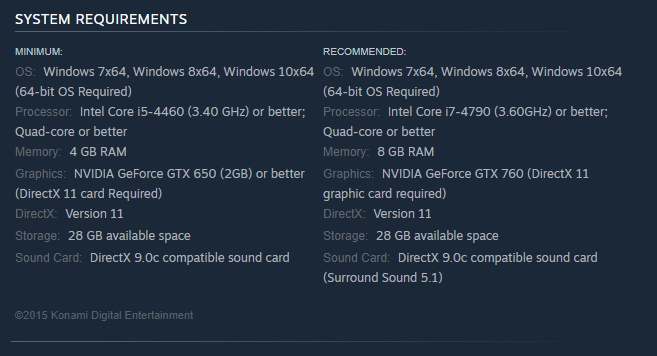 How to Redeem and use the Digital Code;
Launch Steam and log into your account, if you don't have account please follow the application instructions to register new account

Once logged in, At the bottom-left of your Library page, you'll see a plus symbol labelled "Add a Game." Click it, and then select "Activate a Product on Steam..."
Steam will prompt you with its Subscriber Agreement. Click "I Agree," and then you'll be presented with a text field to input the game code

Once you enter the code and click "Next," the game will begin downloading.

Metal Gear Solid V: The Phantom Pain Highlights;
The Soviet invasion of Afghanistan has brought a new edge to the Cold War, and in 1984, a one-eyed man with a prosthetic arm appears in the country. Those who know him call him Snake; the legendary mercenary who was once swept from the stage of history and left in a coma by American private intelligence network Cipher. Snake is accompanied by Ocelot, an old friend who saved him from attack when he finally awoke.Now, Snake's former partner Kazuhira Miller is being held by the Soviet forces in Afghanistan. Snake must undertake a solo mission to rescue Miller and prove to the world that the legendary mercenary is not dead and gone. That first step will lead to a path of vengeance against the very Cipher that slaughtered so many of Snake's men, and to a battle that will embroil the whole world..What started in Ground Zeroes must finish with "V".
Metal Gear Solid V: The Phantom Pain Online;
Metal Gear Online (MGO) returns as the online multiplayer mode for Metal Gear Solid V: The Phantom Pain. Developed by Kojima Productions'
studio in Los Angeles, MGO offers players the chance to conquer enemies in an online battlefield.
MGO represents the third iteration of the popular multiplayer game, redesigned with the familiar gameplay and aesthetic styling of its companion
single-player campaign. With a focus on Tactical Team Operations, the game features a class system that more uniquely defines the strengths
and abilities of player characters on the battlefield.
Key characters from the series, including Venom Snake and Ocelot, will also make appearances in the anticipated multiplayer feature.
* All Brands and game names mentioned on EgyNewTech.com are trade marks belong to its' owner ( mentioned above ) and its' owner have all the rights reserved for it; Game code and certain audio and/or visual material belong to its' manufacturers ( mentioned above ) and they have all the rights reserved.