EA SPORTS FC 24 Ultimate Edition - Global - Multi language - PC Origin Digital Code
Welcomes you to The World's Game: the most true-to-football experience ever with HyperMotionV, PlayStyles optimised by Opta, and a revolutionised Frostbite™ Engine.

LIMITED TIME ONLY - Pre-Purchase* EA SPORTS FC™ 24 Ultimate Edition by 22 Aug to receive:
Untradeable UEFA Champions League or UEFA Women's Champions League Ultimate Team™ Hero Item on 27 Nov

Up to 7 Days Early Access, start playing on 22 Sept

4600 FC Points

Access to a Nike Campaign in Ultimate Team™ beginning 22 Sept

Nike Ultimate Team™ Campaign Loan Player Item (24 matches)

Nike x EA SPORTS FC™ Ultimate Team™ Kit

Untradeable Team of the Week 1 Ultimate Team™ Player Item
Plus all Standard Edition incentives :
Cover Star Loan Player Item (10 matches)




2 Ambassador Loan Player Pick Items (pick 1 male & 1 female for 5 matches)

Unlocked PlayStyles Slot in Clubs

Additional Player Personality Points in Player Career

5-Star Coach available for hire in Manager Career

Play by 1 Nov to earn Founder Status*.

bonus, customer have to contact the publisher direct. **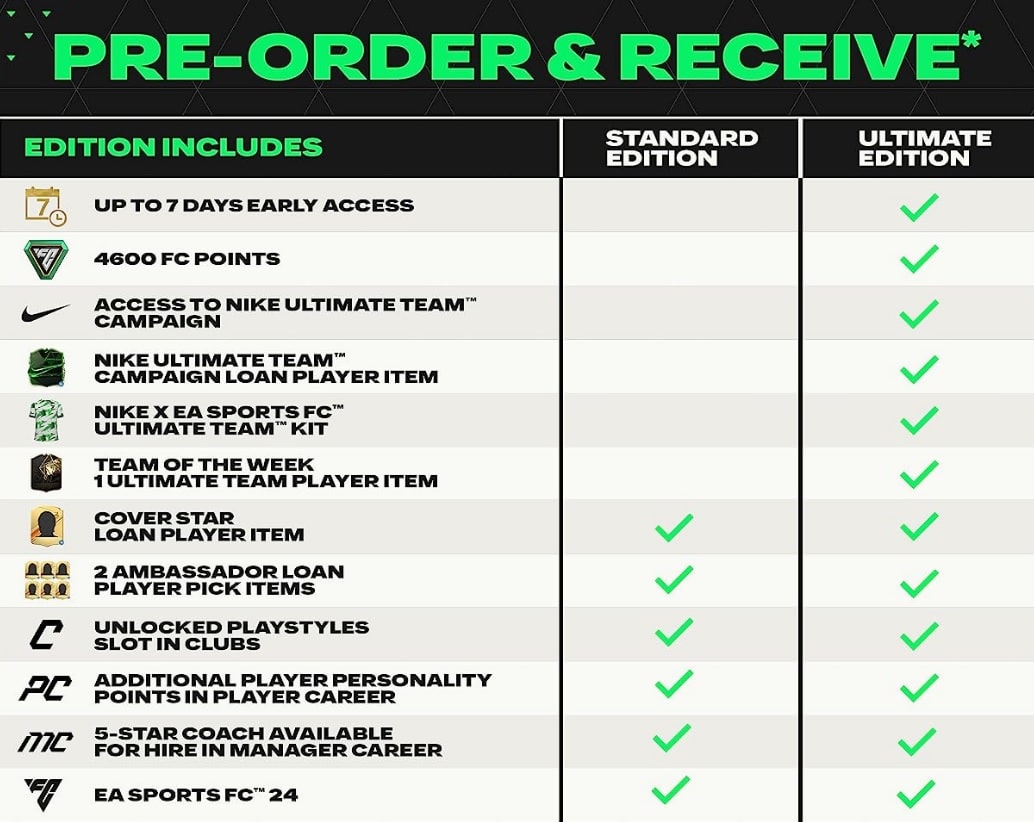 EA Sports FC 24 Highlights:
EA SPORTS FC™ 24 is a new era for The World's Game: 19,000+ fully licensed players, 700+ teams, and 30+ leagues playing together in the most authentic football experience ever created on PC.





Feel closer to the game with three cutting-edge technologies powering unparalleled realism in every match: HyperMotionV, PlayStyles optimised by Opta, and a revolutionised Frostbite™ Engine, plus new graphic settings that unlock vivid and optimised visuals on PC.





HyperMotionV captures the game as it's truly played, using volumetric data from 180+ pro men's and women's matches to ensure movement in-game accurately reflects real-world action on the pitch.





PlayStyles dimensionalise athletes, interpreting data from Opta and other sources into signature abilities which heighten the realism and individuality of each player.





The revolutionised Frostbite™ Engine delivers The World's Game in lifelike detail, bringing a new level of immersion to each match.





Develop club legends and improve your players with the brand new Ultimate Team™ Evolutions, and welcome women's footballers to the pitch alongside men as you craft your dream XI.





Write your own story in Manager and Player Career, and join friends on the pitch with cross-play* in Clubs and VOLTA FOOTBALL™.





EA SPORTS FC™ 24 is the next chapter in a more innovative future of football.



❤️ Happy Gaming everyone ❤️

* All Brands and game names mentioned on EgyNewTech.com are trade marks belong to its' owner ( mentioned above ) and its' owner have all the rights reserved for it; Game code and certain audio and/or visual material belong to its' manufacturers ( mentioned above ) and they have all the rights reserved.

Specification
Region
Worldwide.
Language
English, Spanish, French, German, Italian, Polish, Chinese Traditional, Czech, Danish, Dutch, Japanese, Korean, Mexican-Spanish, Portuguese, Russian, Simplified Chinese, Swedish, Turkish.
Platform
Origin
Age Rating
Ages 3 and Over
Release Date
September 29 , 2023
How to Redeem The Digital Code
Origin

Download Origin from here
Launch Origin and log into your account, if you don't have account please follow the application instructions to register new account
Once logged in, Click on "Origin" in the upper left corner then click on Redeem Product code
enter your code you purchased and confirm it .
the game has been activated and is now added to your origin library
Follow the instructions in the installer to complete the installation process.

System Requirements
Minimum System Requirement

OS: Windows 10 - 64-Bit 
Processor(AMD): AMD Ryzen 5 1600 @ 3.2 GHZ 
Processor(Intel): Intel Core i5-6600K @ 3.50GHz 
Memory: 8 GB 
Graphics Card(AMD): AMD Radeon RX 570 4GB 
Graphics Card(Nvidia): NVIDIA GeForce GTX 1050 Ti 4GB 
Direct X: 12 
Online Connection Requirements: 512kbps minimum internet speed. Internet Connection required to install and play. 
Hard Drive Space: 100 GB
Recommended System Requirement

OS: Windows 10 - 64-Bit 
Processor(AMD): AMD Ryzen 7 2700X @ 3.7 GHZ 
Processor(Intel): Intel Core i7-6700 @ 3.40GHz 
Memory: 12 GB 
Graphics Card(AMD): AMD RX 5600 XT 
Graphics Card(Nvidia): NVIDIA GeForce GTX 1660 
Direct X: 12 
Online Connection Requirements: 512kbps minimum internet speed. Internet Connection required to install and play. 
Hard Drive Space: 100 GB