Call Of Duty: Advanced Warfare - PC Steam Digital Code
Release date: November 4, 2014




Manufacturer:

Activision

Rated : Ages 18 and Over

Item Cover may deffer

Pre-Order bonus VALID when place your order before release date and EgyNewTech reserves the right to change or terminate this promotion at any time in which matching publisher Policy, Any issues in using or redeeming the code provided by publisher as a pre-order bonus, customer have to contact the publisher direct. **
How to Redeem and use the Digital Code;
Launch Steam and log into your account, if you don't have account please follow the application instructions to register new account

Once logged in, At the bottom-left of your Library page, you'll see a plus symbol labelled "Add a Game." Click it, and then select "Activate a Product on Steam..."
Steam will prompt you with its Subscriber Agreement. Click "I Agree," and then you'll be presented with a text field to input the game code

Once you enter the code and click "Next," the game will begin downloading.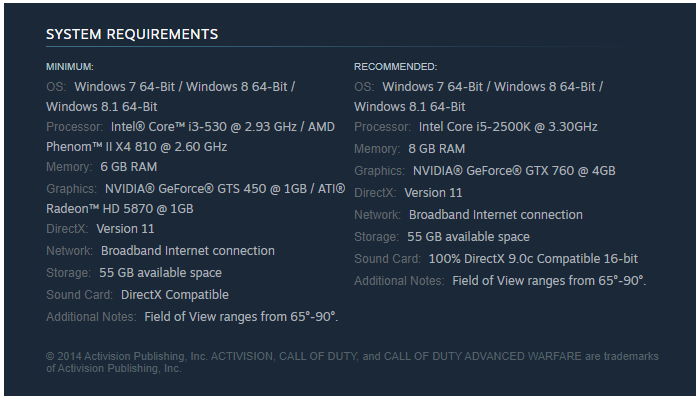 Call Of Duty: Advanced Warfare Highlights;
Call of Duty: Advanced Warfare – power changes everything:
Call of Duty: Advanced Warfare takes place in a plausible future in which technological progress and today's military practices have converged with powerful consequences.
In this carefully researched and crafted vision, Private Military Corporations (PMCs) have become the dominant armed forces for countless nations outsourcing their military needs, redrawing borders and rewriting the rules of war.
And Jonathan Irons, the founder and president of the world's largest PMC - Atlas Corporation - is at the center of it all.
Powerful exoskeletons evolve every aspect of a soldier's battle readiness, enabling combatants to deploy with an advanced lethality and eliminating the need for specialization.
The introduction of this gameplay mechanic delivers enhanced player movement and verticality through boost jumps and grappling, covert cloaking abilities, and biomechanics that provide unparalleled strength, awareness, endurance, and speed.
With the advent of the exoskeleton and newly advanced armor and weaponry, every soldier commands tactical freedom in any terrain unlike ever before, fundamentally changing the way gamers play Call of Duty across all modes.
Harnessing the power of next-gen platforms, Call of Duty: Advanced Warfare introduces a new hi-tech, advanced arsenal and ability set, arming players with all-new equipment, technology, perks, and vehicles like hoverbikes and highly specialized drones.
Players can also choose between standard ammunition and an all-new class of directed-energy weaponry that enables totally new gameplay dynamics.
And with exoskeletons delivering a massive force multiplier and unprecedented tactical freedom, Call of Duty: Advanced Warfare evolves every firefight.
Delivers a stunning vision of the future:
Set in the year 2054, a private military corporation (PMC) has emerged with the power to rescue humanity from a devastated world struggling to rebuild after a global attack on its military and infrastructure. You are the advanced soldier. Empowered with cutting-edge exoskeleton abilities, technological advancements, and high-tech gear, players join the ranks of a highly-trained, specialised unit committed to restoring order in a state of advanced warfare.
Prepare for the next-generation advanced soldier:
The game has been developed specifically for next-gen consoles and PC. This is the first iteration of publisher Activision's expanded three-year development cycle, allowing the debut lead title from Sledgehammer Games an added year of studio development. With the expanded production capabilities, Sledgehammer Games are able to create an astonishing next-generation experience, featuring an array of technical advancements from the sights and sounds that create a near photorealistic world unlike any Call of Duty before, to new performance capture and facial animation technologies that deliver lifelike characters, to a rich and immersive story that brings the fiction to life.
* All Brands and game names mentioned on EgyNewTech.com are trade marks belong to its' owner ( mentioned above ) and its' owner have all the rights reserved for it; Game code and certain audio and/or visual material belong to its' manufacturers ( mentioned above ) and they have all the rights reserved.