Sonic and All Stars Racing Transformed: Limited Edition | WiiU
Release date: 30-Nov-2012




Manufacturer:

SEGA

Rated : Ages 7 and Over

Game Cover may deffer

Pre-Order bonus VALID when place your order before release date and EgyNewTech reserves the right to change or terminate this promotion at any time in which matching publisher Policy, Any issues in using or redeeming the code provided by publisher as a pre-order bonus, customer have to contact the publisher direct. **
Sonic and All Stars Racing Transformed: Limited Edition Highlights;


Sonic and the All-Stars cast line up on the starting grid once again to battle for supremacy in the ultimate race.
The Limited Edition of the thrilling new racing experience from SEGA contains a brand new track and character plus various collectable item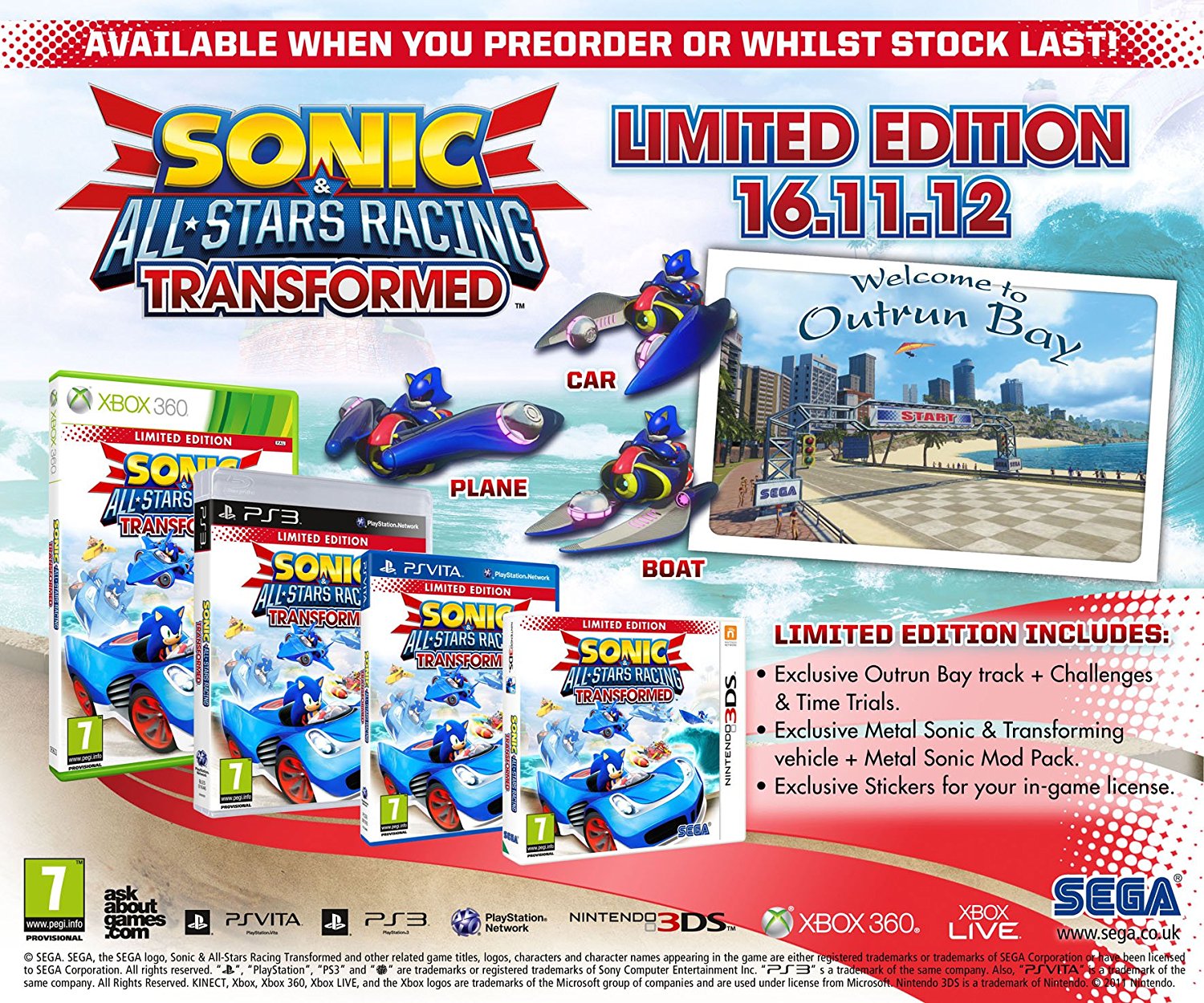 Limited Edition Includes:
Exclusive Outrun Bay Track + Challenges & Time Trials
Exclusive Metal Sonic & Transforming vehicle + Metal Sonic Mod Pack
Exclusive Stickers for your in-game license
Description from Manufacturer ( Mentioned Above ):
GAME OVERVIEW:
Dynamic Tracks: Take to land, sea & air as you race through 16 dynamically changing courses inspired by SEGA's illustrious gaming history. Discover alternate routes, find new power-ups and avoid emerging hazards as you race to victory – every track feels different.
Choose Your Racer: Race as over 20 legendary All Stars. The starting line-up has been transformed as new iconic characters from the world of SEGA join the race. What other game sees a hedgehog battle it out against a monkey, a sky pirate and an axe wielding dwarf!
Fully Transformable Vehicles: This is no ordinary race. Each character is equipped with their own unique vehicle that can transform into a car, boat and plane to take advantage of the changing terrains. Each vehicle handles differently and players must master all three to triumph.
Tools of Devastation: Utilise an arsenal of devastating weapons which require skill to aim, shoot, evade and block. The All-Star Moves also return, this time the more daring and stylishly you race, the more your All-Star meter increases allowing you to unleash carnage on your opponents!
Ultimate Gaming Experience: Old rivalries can be settled and new ones created in up to 10 player online. Journey through the All-Stars' world to take on a huge range of modes and challenges, including Grand Prix, Battle arenas and an incredible world tour.
GAME FEATURES:
Transform!

Transform into a Car: Boost and drift your way around the track.
Transform into a Boat: Tackle dynamic rapids and huge waves to beat rivals.
Transform into a Plane: Take to the skies to barrel roll and dogfight to victory.
Wii U additional features:

Wii U GamePad Functionality: Use the GamePad as a map, weapon camera or rear view mirror, utilize tilt controls, or swipe the screen at any time to move the action from your TV to the GamePad's screen.
Wii U Game Modes: Utilise the Wii U Game Pad in exclusive multiplayer modes. Chase down the competition as Joe Musashi from Shinobi, or use your monkey ball to squash your friend before they collect all the bananas!
5-player Splitscreen: four players on the TV and one on the Wii UGamePad – splitscreen has literally transformed!
Playable Miis: Play as Miis with their own transforming vehicle.
Have a nice game play :)

* All Brands and game names mentioned on EgyNewTech.com are trade marks belong to its' owner ( mentioned above ) and its' owner have all the rights reserved for it; Game code and certain audio and/or visual material belong to its' manufacturers ( mentioned above ) and they have all the rights reserved.