amFilm Glass Screen Protector for iPhone 8 Plus, 7 Plus, 6S Plus, 6 Plus (5.5") (2 Pack) Tempered Glass Screen Protector
amFilm Glass Screen Protector for iPhone 8 Plus, 7 Plus, 6S Plus, 6 Plus
Screen Protector Highlights;
Specifically designed for iPhone 8 Plus, 7 Plus, 6S Plus, iPhone 6 Plus 3D Touch Compatible
Ultra-clear with 99.9% transparency to allow an optimal, natural viewing experience
Ultra thin-0.3mm thickness is reliable and resilient, and promises full compatibility with touchscreen sensitivity
Highly durable, and scratch resistant - surface hardness 9H and topped with oleophobic coating to reduce fingerprints.
Includes: 2x Glass Screen Protector, Wet/Dry Wipes, Dust Removal Stickers, Squeeze Card and Installation and Use Guide
amFilm Glass Screen Protector for iPhone 8 Plus, 7 Plus, 6S Plus, 6 Plus Technical Specifications;
Exceptional quality Tempered Glass Screen Protector with highest scratch resistance
Up to 9H Hardness
Zero Bubbles with correct installation
Tempered Crystal Glass with 99.99% Ultra Clear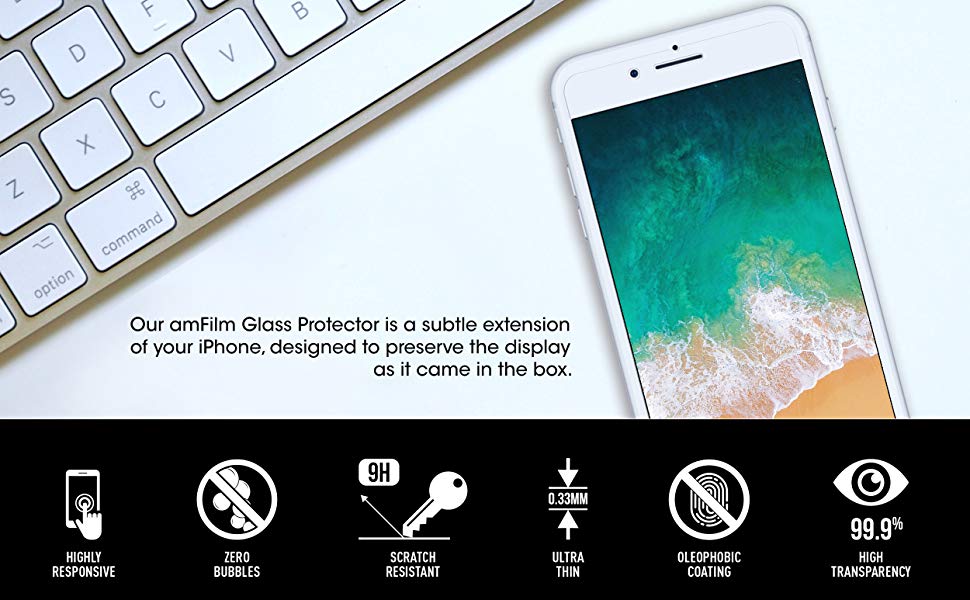 What's Inside the box;

2-amFilm Tempered Glass Screen Protectors.

Alcohol Cleaning Wipes.

6-Dust Removal Stickers.

1-Squeeze Card.

1-Installation Instruction Manual.
Description from Manufacturer ( Mentioned Above ):

Introducing amFilm Tempered GLASS Screen Protectors for your iPhone 8 Plus, 7 Plus, 6 Plus and 6S Plus.

amFilm Premium GLASS Protectors are the latest in state-of-the-art screen protection technology. Highly durable and scratch resistant/chip resistant, this strong 9H (hardness level) protector will provide your cell phone the best protection against drops, bumps, scratches and normal wear and tear. Get all the protection without any bulk - amFilm Glass protectors are a mere .33mm thin making them ultra-light weight to allow for a 'delicate touch' style screen protector that promises not to interfere with the sensitivity of your touchscreen. To top it all off the amFilm GLASS protectors are designed to be 99.99% transparent to promote an optimal, natural, crystal clear viewing experience.
Please Note: Due to the curved-edge design of the iPhone 8 Plus, 7 Plus, 6 Plus and 6S Plus, our screen protector is made to be a little smaller than the actual screen of your device. This is to prevent the protector from overlaying these curved edges which can lead to unwanted bubbling and peeling up around the edges.
Works with:

Apple iPhone 8 Plus, 7 Plus, 6 Plus, iPhone 6S Plus (NOT for iPhone 8, 7, 6 or iPhone 6S)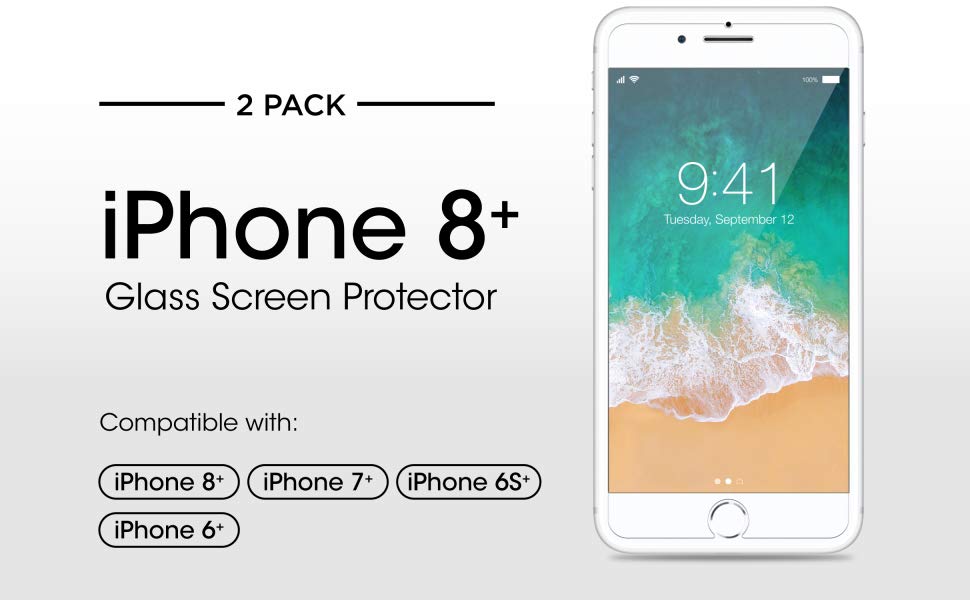 Kit Contains:

2 x GLASS Screen Protector, Wet/Dry Wipes, Squeeze Card, Installation Use Guide, Dust Removal Stickers
The product is one pack with two screen protectors enclosed

Color:

GLASS (Ultra-Clear)
Warranty:

30-Day Money Back Guarantee AGAINST MANUFACTURING DEFECT
Lifetime Warranty AGAINST MANUFACTURING DEFECT
Warranty applies to the purchased product. Restrictions may apply
Have a nice game play :)

* All Brands and game names mentioned on EgyNewTech.com are trade marks belong to its' owner ( mentioned above ) and its' owner have all the rights reserved for it; Game code and certain audio and/or visual material belong to its' manufacturers ( mentioned above ) and they have all the rights reserved.