Uncharted 4: A Thief's End - Collector's Edition | PS4
Brand: UbiSoft
Product Code: PlayStation 4
Availability: In Stock
Region All Release date: 10-05-2016

Region 2 Release date: 10

-05-2016

Stocking Date: After release date 5-10 days

Manufacturer:

Sony

Game Cover may deffer




Pre-Order Price Guarantee




Pre-Order bonus VALID when place your order before release date and EgyNewTech reserves the right to change or terminate this promotion at any time according to publisher, Any problem in using or redeeming the publisher pre-order bonus customer have to contact the publisher direct. **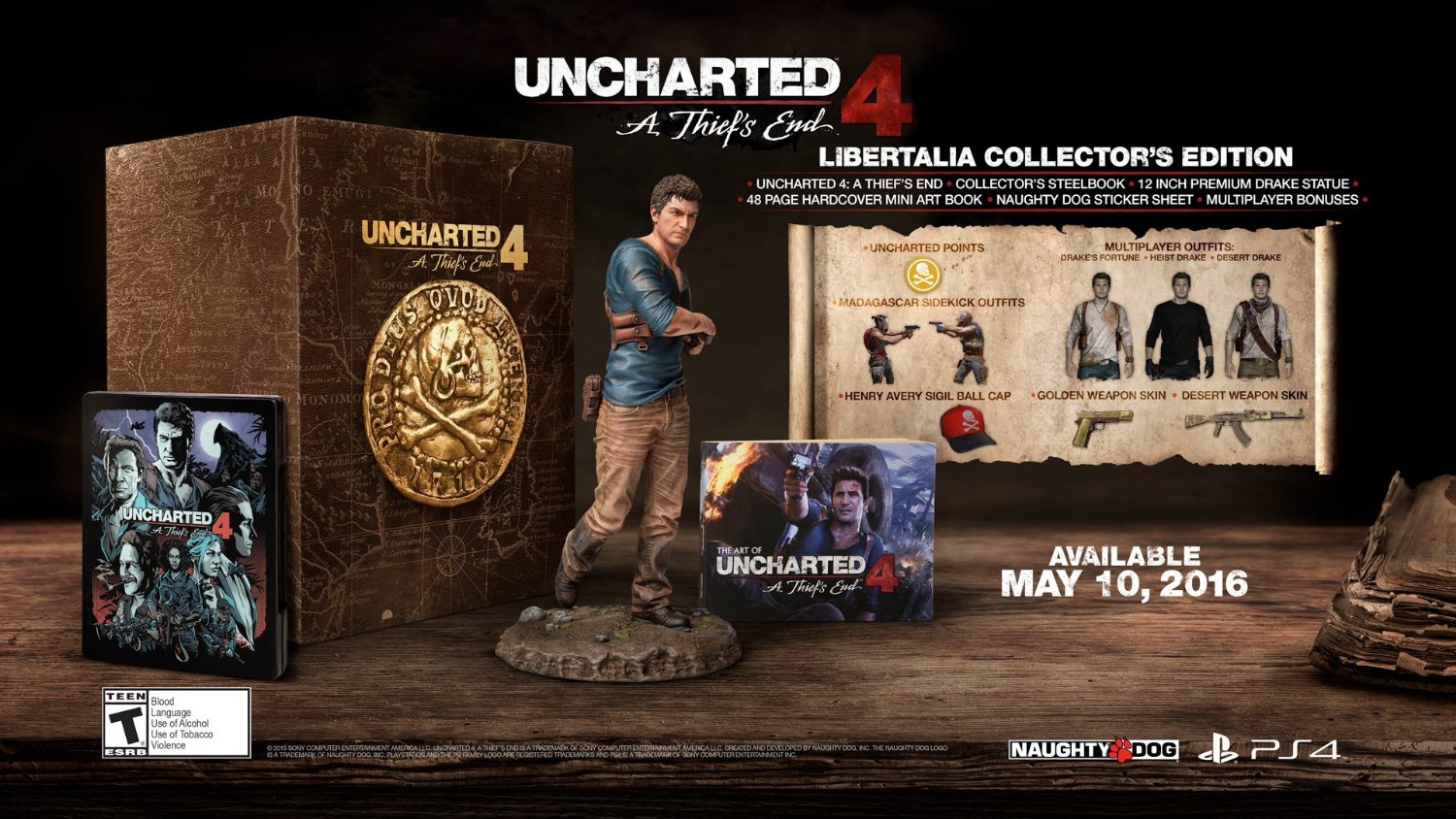 Uncharted 4: A Thief's End Collector's Edition contents,
The Liber Talia Collector's Edition includes: UNCHARTED 4: A Thief's End

12" Premium Drake Statue

Two EXCLUSIVE instant multiplayer unlocks: Madagascar Sidekick Outfits & Henry Avery Sigil Ball Cap

Five additional instant multiplayer unlocks: UNCHARTED: Drake's Fortune Outfit, Heist Drake Outfit, Desert Drake Outfit, Golden Weapon Skin, and Desert Weapon Skin

Collectible Steel book Case, 48-Page Hardcover Art Book by Dark Horse, Naughty Dog & Pirate Sigil Sticker Sheet, and Naughty Dog Points to unlock more multiplayer content
Uncharted 4: A Thief's End E3 2014 Trailer

UNCHARTED 4: A Thief's End Story Trailer | PS4

Description from Manufacturer
Every Treasure Has Its Price

Nathan Drake is back

Several years after his last adventure, retired fortune hunter, Nathan Drake, is forced back into the world of thieves.
Adventure

With the stakes much more personal, Drake embarks on a globe-trotting journey in pursuit of a historical conspiracy behind a fabled pirate treasure.

Sacrifice

His greatest adventure will test his physical limits, his resolve, and ultimately what he's willing to sacrifice to save the ones he loves.

Mysticals

Harness some of the well-known supernatural elements from the Uncharted games to aid your team in attaining victory.

Sidekicks

Sidekicks are another loadout option, which spawns an NPC ally, each with a unique skill to help you or your teammates along. Sidekicks will earn you cash as they fulfill their role.

Grappling Hook

Leverage the environment to take out characters from above.

Have a nice game play

* All Brands and game names mentioned on EgyNewTech.com are trade marks belong to its' owner ( mentioned above ) and its' owner have all the rights reserved for it; Game code and certain audio and/or visual material belong to its' manufacturers ( mentioned above ) and they have all the rights reserved.